Donald Unleashes Stealth Border Wall Maneuver, Sends Mexico Scrambling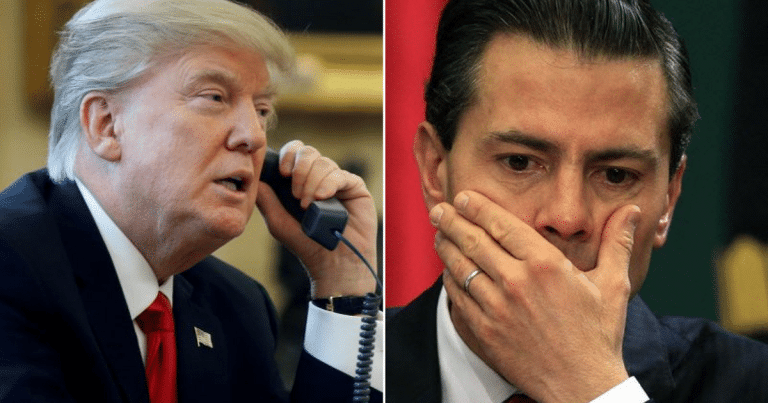 From the very beginning of his campaign, Donald Trump promised to Americans that Mexico will pay for the border wall. But Mexico responds quickly, refusing to do so.
However, Mexico is not in a good position to argue with America. The country enjoys billions of dollars a year in remittances from the U.S. That doesn't include the business and wealth it receives from American companies. You'd think their government would be willing to at least discuss the wall, in hopes of sealing great trade deals.
Instead, Mexico's president has decided to scramble and kick and fight and flee right after President Trump finished a phone call with him. A phone call in which President Trump was able to detail his border wall plans in a precise fashion. And Trump's border wall maneuver is something that Mexico cannot ignore forever.
From Daily Caller:
Mexico is delaying a meeting between Mexican President Enrique Peña Nieto and President Donald Trump for a second time because Trump refuses to take border wall talks off the table.
Trump and Nieto exchanged words about the border wall on a phone call Tuesday and planned a long-awaited White House meeting between both world leaders. The president reportedly refused Nieto's demands that border wall negotiations be left out of the conversation topics at the pending White House meeting, causing Nieto's administration to once again postpone a trip to Washington.
… After announcing he would not attend the White House meeting, Nieto promised the Mexican people the nation would not pay for any part of the wall — a reference to one of Trump's key campaign promises regarding its construction.
This is happening as renegotiation talks for NAFTA continue this week. Not good, Nieto. Your country needs trade with the U.S. Refusing to meet and talk with Trump can only hurt your chances with NAFTA. Our government won't be willing to help your country with good trade deals if you refuse to even talk about the wall.
It's clear that Mexico is in panic mode. They cannot thrive without a good relationship with America. Yet for a long time, they've abused us. They've let millions of their own people flood our borders illegally, knowing those same people would send cash back to Mexico. They've profited when American companies sellout U.S. workers to move factories to Mexico. Now all that is going to end.
If Mexico wants to do good by America, they need to talk about the wall. It's going to go up, one way or another. I understand if Nieto doesn't want to write a check for $25 billion. But that money's coming from Mexico, one way or another. If he was a real leader, he'd meet with Trump to come up with a plan.
But delaying a meeting? It only means bad things for Mexico. Their people and society will suffer. All because Nieto is a coward.
Source: Daily Caller