Border Patrol Agents Stop Truck, Find 76 Reasons To Arrest Driver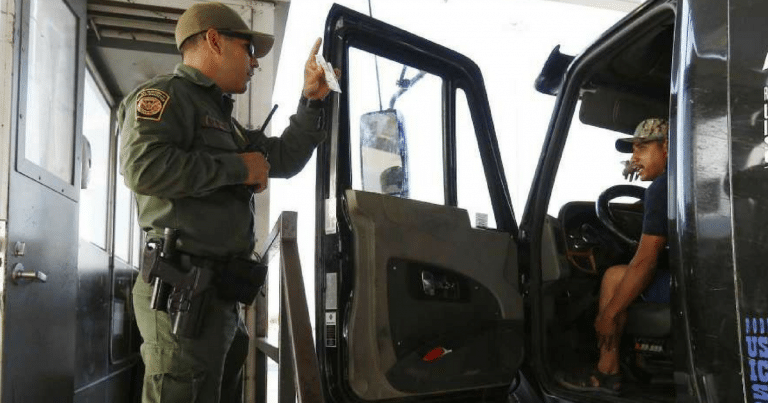 In President Trump's State of the Union Address, he made sure to take a moment to thank all those Border Patrol agents who put their lives on the line every day to protect our nation and borders from illegal infiltration.
These agents face not only difficult elements such as heat, humidity, and wind, but they also face the realities of physical attacks and slayings by criminal illegals.
Trump was also quick to mention that these agents need our help in securing a border wall in order to make their jobs more manageable.
To further prove the president's point, we have a story out of Texas that should give us 76 reasons to ensure that a border wall is built, and quickly.
From Local 8 Now:
Border Patrol agents in Laredo, Texas, discovered 76 undocumented immigrants inside the back of a tractor-trailer Friday.
Agents at the checkpoint on north Highway 83 questioned the driver of a tractor-trailer in the primary lane. The driver was sent to a secondary lane for further inspection when agents found 76 undocumented immigrants inside the trailer.
Authorities reported that the 76 individuals appeared to be in good health. Their countries of origin ranged from Honduras, El Salvador, Mexico, and Guatemala. 13 undocumented children without parents were rescued during the incident.
Democrats paint these illegals as hopeful, oppressed individuals just looking for a better life. That is an absolute falsehood, according to one border patrol agent. No, these criminals are monsters selling human lives for whatever they can get:
"These criminal organizations view these individuals as mere commodities without regard for their safety. The blatant disregard for human life will not be tolerated," Laredo Sector Assistant Chief Patrol Agent Gabriel Acosta.
Investigators arrested the driver and seized the tractor-trailer. The driver was identified as a United States Citizen, but has not been named.
It is time for Democrats to face the facts: illegal immigration is harming American citizens.
The best answer to stopping illegals from coming into this country is to build a wall. In short, "good fences make good neighbors."
The more effort we put into making border crossing as difficult as possible, the less likely we will see stories of illegals putting their lives in danger by living in a truck for days on end. It will actually force these immigrants to find the correct and legal way of entering our country and making a better life for themselves without harming America.
Until then, it's time to show some real love to our Border Patrol agents and some tough love to our southern neighbor and build the wall.
Source: Local 8 Now News