Illegal Border Crisis Skyrockets Through The Roof – Taxpayers Just Got Robbed Blind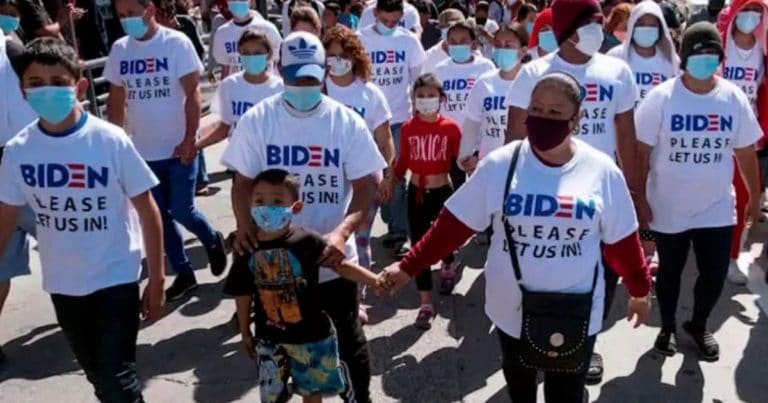 What's Happening:
Despite what Biden says, hundreds of thousands of illegal aliens continue to bombard our border.
And thanks to Joe killing Trump's policies, these migrants think they can just waltz into the U.S.
Detention centers are overcrowded. And the administration is bending over backward to house these aliens anyway they can (hey, how about just sending them back?).
And now, America is finding out just how much Joe is paying to house people who shouldn't even be here.
From Washington Examiner:
The cost of housing tens of thousands of migrant children who have come across the southern border since President Joe Biden took office has reached $3 billion, according to a report.

The Biden administration dished out massive federal contracts to private companies and nonprofit groups in its first 100 days to house children in government custody after federal facilities were stretched to their limits.
That's right. The government shelled out $3 billion dollars—in just a few months—to house illegal aliens.
And, keep in mind, this is just the money spent to house the unaccompanied children who made it mysterious to the border without a parent.
How much money is being spent on everyone else coming over?
Apparently, the government dumped this cash into the greedy hands of contractors, without a bidding process.
That means, Biden most likely overpaid, just to put these kids somewhere.
And that doesn't even take into consideration the fact that these children should be allowed to stay in this country.
Answer me this, how does a child (eighteen years old or younger) make it all the way to the border? The journey from Central America to the U.S.-Mexico border is perilous. Many die along the way.
Do you mean to tell me over 30,000 kids made it in the last few months all on their own? Or were they ferried here along with their parents—who then told them to cross over by themselves?
(Some real Parents of the Year wanting to enter this country.)
Biden is taking billions of your hard-earned money to house and feed people who should have stayed in their own countries.
And that's on top of the shakedown money he is sending to countries to secure their borders—something they should be doing anyway.
Does this man have any sense at all? Doubt it.
Key Takeaways:
The Biden administration has spent $3 billion to house illegal alien children.
The money was given to contractors who did not have to bid on the contracts.
Over 33,000 children have made it to the border in the last few months, allegedly on their own.
Source: Washington Examiner