Hours After Border Tractor-Trailer Tragedy – Texas Governor Abbott Points the Finger Directly at President Biden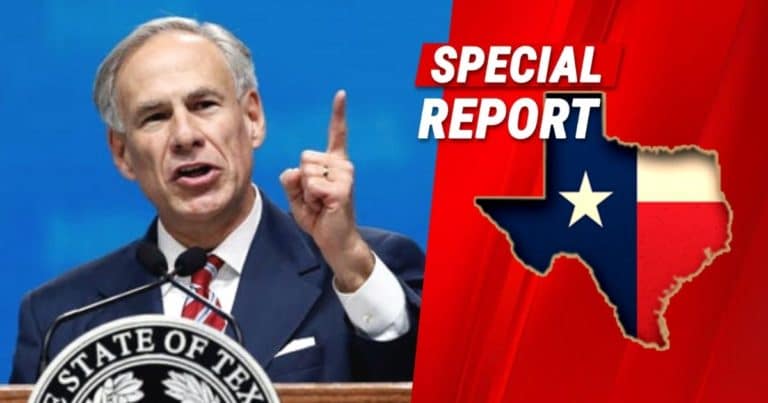 What's Happening:
Until major changes come to D.C., the ongoing border crisis will continue to rage. The liberal media has all but stopped talking about it.
But, thanks to Biden's lax policies, scores of migrants continue to enter the country illegally.
Recently, a horrific discovery was made on the border. And the Governor of Texas knows who to blame.
From Fox News:
After authorities found an 18-wheeler that carried up to 100 individuals abandoned in San Antonio, including at least 46 individuals who were deceased, Texas Gov. Greg Abbott blamed President Joe Biden and his immigration policies.

In a tweet, Abbott said Monday evening's discovery rests squarely on Biden. "At Least 42 People Found Dead Inside Truck Carrying Migrants In Texas. These deaths are on Biden," Abbott said.
Law enforcement found an 18-wheeler in San Antonio, TX full of 100 people who were being smuggled over the border.
Crammed into these inhumane conditions, at least 46 people were found dead. The others were rushed to the hospital, where two more reportedly died.
This disgusting turn of events is thanks to Biden's unwillingness to secure the southern border. And Gov. Abbott blamed Biden, saying the deaths are on him.
This comes just a day after San Antonio police found 14 migrants trapped inside a home. They reported these people, ranging in ages from 19 to 33, were part of a suspected human smuggling operation.
They were being held at gunpoint, deprived of food and water.
As terrible as this news is, we can't forget that smugglers think they can get away with this, thanks to Biden's policies.
Smugglers and criminals are able to easily cross the border because Border Patrol and DHS are not allowed to do their jobs.
Those who are caught are released into the country, encouraging even more people to cross.
And to think, Democrats claim they are leaving the border open for "compassionate" reasons.
Really? Will those same Democrats come down to San Antonio and take a look at what our police found?
Can they say, honestly, that keeping the border open is compassionate, now?
Key Takeaways:
Police found 100 migrants smuggled in an 18-wheeler in TX, at least 46 were dead.
Abbott blamed the deaths on Biden's policies, saying they were on him.
Biden's open border policies have created an ongoing crisis at the border.
Source: Fox News, Daily Wire