Little Boy Just Used His Entire Savings To Help Elderly – Purchases 65 Special "Care Packs"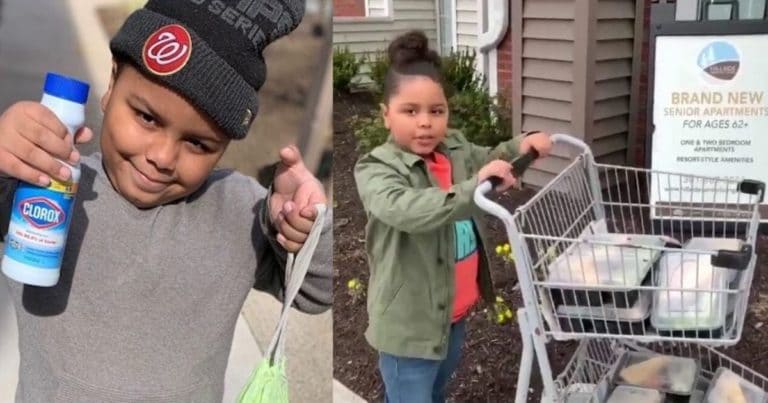 In times of need, some people really step up.
I'm not only talking about rich philanthropists and those who donate a few bucks to the local charity.
I'm also talking about pint-sized angels, who become role models for the rest of us.
For example, check out 7-year-old Cavanaugh Bell. This little guy was quite the saver — even at his young age, he'd already saved $600!
That's pretty responsible, wouldn't you say?
But wait, it gets better:
While most kids would be thinking about how many toys they could buy with $600, Cavanaugh was thinking about something else…
Specifically, how to help those in need.
Via Liftable:

An unexpected philanthropist is making a difference in the lives of the elderly and others who are vulnerable to the coronavirus in his Gaithersburg, Maryland, community.

Seven-year-old Cavanaugh Bell used $600 of his own money, which he had saved up over the course of three Christmases and two birthdays, to create 65 'COVID-19 Carepacks' for those in need.
That's incredible!
There are plenty of adults who don't have such selfless, kind hearts. And yet, here's this young child of 7, showing us what humanity is REALLY all about!
And Cavanaugh didn't stop there, either.
He even purchased 31 meals from an Italian restaurant for nearby senior citizens at Hillsdale Senior Homes.
Really, this great post on Twitter (and video) says it all:
Yesterday we bought, packaged and delivered hot meals to the senior citizens at Hillside Senior Homes!

We are all on this earth together and we need to take care of each other.

$5… $10… $20… whatever you can spare will help me help our community.https://t.co/K4NNlil5hN pic.twitter.com/ZO4Gf4oFCQ

— Cool & Dope (@cooldopeliving) March 17, 2020
This really is something special.
It's even more impressive to note that Cavanaugh was once bullied in school, and apparently "found himself in a dark place."
But out of that darkness came a giving heart, and someone who's perfectly willing to use his own money to help others.
He even helped feed 90 hungry students, according to Fox News.
As a result, this is someone who's going to grow up to be a hard-working, responsible, giving adult … and we desperately need more of them!
If only everyone could act this way during times of trial and strife, right?
SHARE Cavanaugh Bell's amazing selfless deeds — we all need some GOOD news right now!
Source: Liftable