After Democrats Boycott Supreme Court Nom, Lindsey Graham Leads The Charge 12-0 To Confirm Her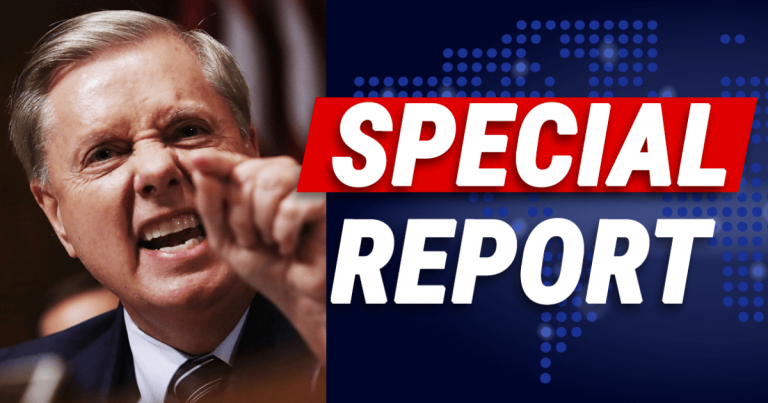 What's Happening:
Amy Coney Barrett passed her confirmation hearings with flying colors.
No controversies. No scandals. No (false) accusations.
You'd think that means even Democrats would gladly vote for her confirmation.
Not so fast! Democrats decided to instead boycott the meeting, with planned press appearances outside.
So, what did Senate Republicans—led by Lindsey Graham—do?
The Senate Judiciary Committee on Thursday unanimously advanced the Supreme Court nomination of Judge Amy Coney Barrett at its executive business meeting despite a decision by Democrats to boycott the markup in protest of how close Republicans are moving the nomination to Election Day…

"That was their choice. It will be my choice to vote the nominee out of committee," Senate Judiciary Committee Chairman Lindsey Graham, R-S.C., said at the beginning of the meeting.
After Democrats decided to boycott the hearing, Graham moved the time to vote up to 9 am.
Republicans voted unanimously to advance Barrett's nomination to the full Senate floor, in a vote 12-0.
The vote was originally planned for 1 pm. Democrats had their "protest" press conference slotted at 10.
In a brilliant move (because nobody could oppose it), Republicans voted to move the vote ahead to 9.
That meant Barrett was already on her way to the Senate vote before Schumer could throw his temper tantrum!
Hey, if they'd bothered to show up at the hearing, maybe Democrats could have, I dunno, voted or something.
Democrats' refusal to even participate in this vote is pretty despicable. Isn't this their job? Looks like they just stop off like spoiled brats who didn't get their way.
But these are children, these are adults elected to high office.
Schumer tried to spin his party's decision to boycott, but even his audience wasn't buying it:
During the speech, a group of protesters can be heard and seen making noise to overpower Schumer's voice, many screaming at him and Senate Democrats for allowing Barrett to make it this far in the confirmation process.
Wow, that's bad. Democrats are losing the support of their radical (obviously ill-informed) left-wing. It seems these protesters are upset ACB is moving along. But they appear to be blaming Democrats for "allowing" it to happen.
They, like the Democrats, don't seem to understand that elections have consequences. Republicans are in the position to confirm Barrett because Americans voted them into power.
We want good justices on the court—and are sick and tired of the games Democrats play.
Boycott your own job? Okay! How about we find people who'll do the job to replace you?
Key Takeaways:
Democrats boycotted the hearing to advance ACB's nomination.
Graham moved the vote ahead of schedule, passing with a 12-0 vote.
Schumer was outside complaining but was drowned out by left-wing protesters.
Source: Fox News, Daily Caller