Jerry Brown Breaks Promise, Releases 10,000 Inmates Early Who Committed Awful Crime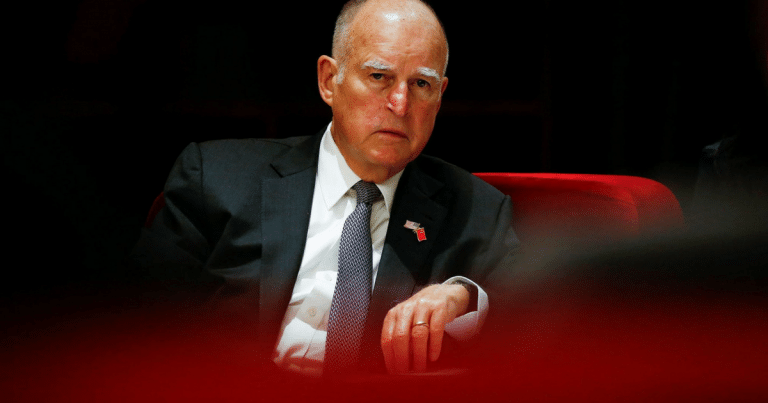 We often have to wonder at the people who run California. It's lawmakers and judges seem to have zero concept of the real world.
But, it's no surprise. Most liberals don't understand the real world. If they did, they'd enforce immigration laws, support capitalism, and oppose criminals of all stripes. Instead, California lawmakers and leaders actually put the needs of criminals first.
Despite his promises, Gov. Brown let the state down. Yet again.
From Daily Caller:
California prisons may be forced to let out thousands of sex offenders on early parole, despite Gov. Jerry Brown's promises that no such thing would happen.
Sacramento County Superior Court Judge Allen Sumner's ruling relates to the state's recent referendum on Proposition 57 that orders California prisons to consider early parole for non-violent offenders, the Los Angeles Times reported.
Brown, a Democrat, had promised voters that non-violent sex offenders would not see the benefits of the bill, but Sumner's ruling strikes down the exclusion in part.
Now, those convicted of pimping minors, incest, or child pornography possession are eligible for release.
"If the voters had intended to exclude all registered sex offenders from early parole consideration under Proposition 57, they presumably would have said so," Sumner told reporters.
Uh, yeah, Sumner. Because if there's one thing voters love, it's sex offenders. There are literally websites that warn people when sex offenders move into their neighborhoods. I really doubt voters would support any measure that is lenient to monsters who exploit children and others sexually.
You have to wonder why this judge wants to help people who commit sex crimes. Judges tend to take a very strong stance against anyone who harms children.
They are especially strict with people who commit sex-related offenses. For some reason, this judge is looking for a loophole to let sex offenders out, before they've paid their debt.
Makes you wonder about the man's motives.
This is yet again another example of California leaders putting criminals ahead of law-abiding citizens. Now California residents have to worry about sex offenders flooding their communities. Are they reformed? Are they done with their lewd behavior?
There's no way to know for sure until it's too late.
Source: Daily Caller