Barr's Bulldog Sends Obama Scrambling – He's Going After Barack's 2 Deep-State Leaders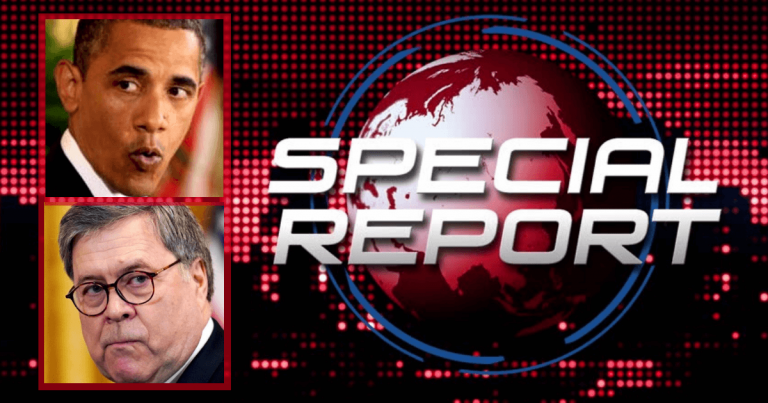 For years, Democrats have been accusing Russia of interfering in our elections to help Donald Trump. But…
If Russia ever tried to mess with American politics, there may be only one person to blame: former President Barack Obama.
More evidence supporting this theory could emerge soon, too, making the Russia investigation much bigger!
Attorney General William Barr told Fox he's uncovered new evidence in a recent trip to Rome, and that evidence points directly at two Obama staffers. From Fox News:
U.S. Attorney John Durham's investigation into the origins of the FBI's 2016 Russia probe has expanded based on new evidence uncovered during a recent trip to Rome with Attorney General Bill Barr…

The sources said Durham was "very interested" to question former Director of National Intelligence James Clapper and former CIA Director John Brennan, an anti-Trump critic who recently dismissed the idea.
An expanded investigation into the Russia probe. You know what that means, right?
This means both Clapper and Brennan will be under the microscope again, and both were in charge during Obama's reign. Neither likes Trump, either.
They were at the helm when they first heard that Russians might start interfering in the 2016 presidential election way back in 2014.
If this is the case, why didn't Obama do anything? Why didn't Clapper and Brennan start their own investigation?
And this is well before Trump's time in the White House, so the new evidence show there were people reponsible for stopping Russian meddling long before he was around.
This appears to show President Obama was unwilling to protect our elections from Russian interference.
Here's hoping this renewed investigation once again clears Trump, and puts the spotlight on Obama's guys!
SHARE if you want Obama and his deep-state leaders investigated!
Source: Fox News