California Governor Could Be In Trouble – After Shutting Down Businesses, Newsom Is Getting Sued By Restaurant Owner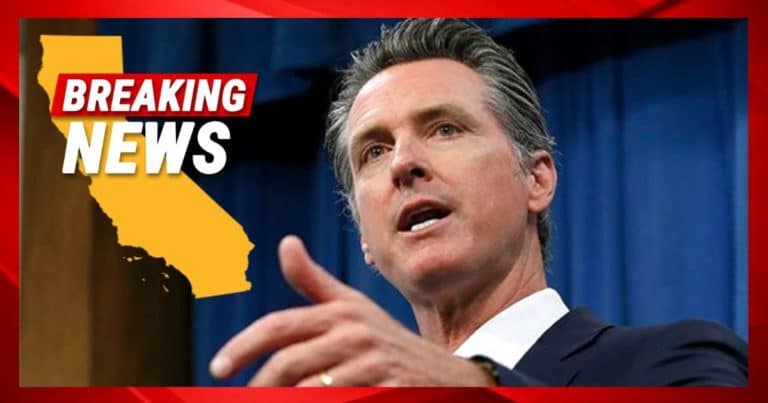 What's Happening:
Out of all the states battling the pandemic, is there one handling it worse than California? New York, perhaps, but it seems every other state has a better handle on it than Newsom's.
The governor has pushed one harsh lockdown after another. Churches have gone to court, demanding their First Amendment rights back.
Even though the state has been under strict lockdowns since March, their positive COVID tests have increased. It's almost as if… lockdowns aren't "the" answer!
The solution? For Newsom, it's even more lockdowns, even as the vaccine is being distributed.
Well, it seems like Californians have had enough. Because one business is going to court. From Fox News:
A California restaurant is suing California Gov. Gavin Newsom and other state officials over an order that forced it to close due to the spread of the coronavirus pandemic…

In a lawsuit filed Sunday in federal court, the owner of the Pineapple Hill Saloon & Grill in Sherman Oaks claims that Newsom's orders have been overbroad and not based on science and that Newsom improperly allowed an unelected State Public Health Officer to determine which businesses can stay open and which must close without legislative input.
The restaurant is claiming Newsom and unelected officials are ignoring the science to impose sweeping rules. In addition to that, they are hammering Newsom for imposing these rules without going through the state's legislation.
Tell me something, do governors have the power to just shut down their states on a whim? Don't we have lawmakers and courts for a reason—so leaders can't act like dictators?
Newsom was already slapped down by the courts for changing election rules right before the 2020 vote.
But Democrats are acting as if they have the authority to just sign a piece of paper and put millions out of work.
What does Gavin think is going to happen—when he closes so many businesses? People are already fleeing the once Golden State in record numbers.
Does he think people will just stick around? When so many other states (most of them) aren't punishing Americans for just wanting to go to work?
This lawsuit might only be the start of a powerful reckoning. A court already ruled Newsom can use executive orders anymore. What will this case bring?
And what about that movement to recall the governor? It happened in 2003—it might happen again.
If Newsom was smart, he'd reopen the state immediately. But I won't hold my breath waiting.
Do you think Newsom should pay for his actions?
Key Takeaways:
After months of strict lockdowns, Gov. Newsom is imposing new lockdown rules.
A restaurant is suing the governor, saying he does not have the power to do this.
Newsom has already lost several legal battles over his abuse of power.
Source: Fox News