Trump Delivers California Christmas Warning – Governor Newsom In Deepest Trouble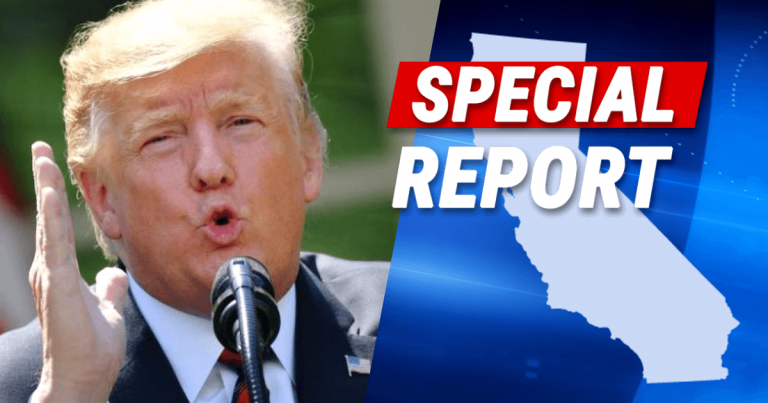 Trump is fed up with California, and he's getting ready to take action!
Once upon a time, people called California the "Golden State." Americans flocked to the West Coast paradise to live and work. Not to mention vacation on the regular!
That's far from reality, these days. Thanks to California's radical, far-left government–run by Gov. Gavin Newsom–the state is falling apart.
Their unchecked liberal policies have turned the Golden States into a literal wasteland. The cost of living (thanks to taxes and massive regulation) is driving people away by the hundreds.
Worse than that, major CA cities, once the envy of the world, are buried under filth.
Democrats waste money on useless programs as their state falls into ruin.
Well, the President of the United States is sick and tired of what the left is doing to California. And he's about to send in the federal clean-up crew.
From Fox News:
President Trump issued a warning to California Gov. Gavin Newsom on Wednesday, threatening federal intervention if Newsom is unable to solve his state's homeless crisis.

"Governor Gavin N has done a really bad job on taking care of the homeless population in California. If he can't fix the problem, the Federal Govt. will get involved!" Trump tweeted.
President Trump laid down the law to Gov. Newsom over the state of California. Simply put, if Newsom can't do the job, Trump will do it for him!
Newsom had the audacity to blame his state's problems on Trump.
Yes, really. These problems are the direct result of years of left-wing policies. Newsom and his super-liberal government pushed policies that are crippling the state.
But because Trump refuses to dish out tax dollars on yet another wasteful CA program, Newsom blames him.
We shouldn't be surprised. The only thing Democrats are better at doing than taxing you is to blame others for their problems!
President Trump issues a direct warning to Newsom. He made it clear that Newsom is a failure and that the feds might have to get involved.
And you better believe Newsom won't like Trump's solutions!
The problems in California are largely thanks to the left's policies. Trump will have no choice but to implement an agenda that will upend their schemes.
I doubt Newsom will be very happy to see Trump round-up border jumpers and crack down on drug use.
But, after all, this was Newsom's problem to begin with. He made this mess. He can't be upset over how Trump fixes it.
SHARE to tell Trump to clean up California!
Source: Fox News