California City Goes Rogue On Jerry Brown And His Sanctuary Law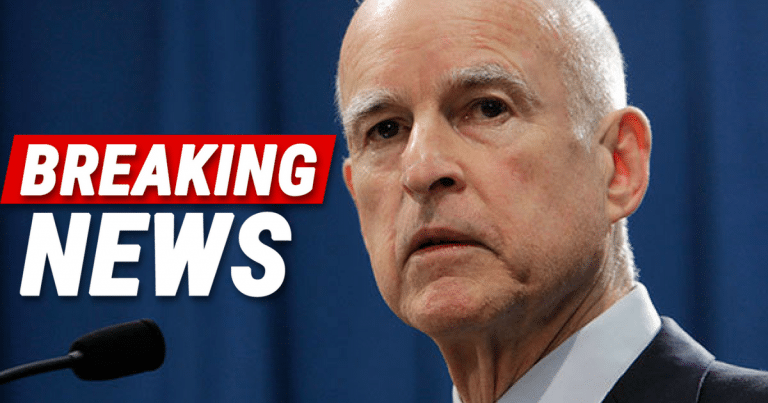 America was stunned when Jerry Brown made California a "sanctuary state." The governor is forcing local law enforcement to betray the federal government. It is tantamount to treason.
But not everyone in California agrees with their governor. There are still many patriots in the state. People are sick at the fact their governor is putting criminal illegals ahead of its citizens.
And one city is fighting back. For a very good reason: Brown's sanctuary law is un-Constitutional.
From Fox News:
Los Alamitos Council members voted 4-1 to opt out of a state law that limits cooperation between local police and federal immigration agents.
The law, signed by Gov. Jerry Brown last year and became effective on Jan. 1, includes prohibiting state and local police agencies from informing federal authorities in cases when illegal immigrants facing deportation are released from detention.
Los Alamitos' adopted ordinance claims the new state law "may be in direct conflict with federal laws and the Constitution." The council, therefore, "finds that it is impossible to honor our oath to support and defend the Constitution of the United States," if they do not opt out of it…
"They are asserting their right to ensure the constitutional remains the main law of the land," Arthur Schaper, who supported the motion, told Fox Los Angeles.
Los Alamitos made a very smart decision. It's not just them rejecting Jerry Brown's terrible law. It's not just about them supposedly hating on illegal immigrants. It all comes down to their reasoning for voting. It is all about enforcing a law they believe is un-Constitutional. And that is why they voted against it. The rule of law supersedes everything else.
There might be some leaders in Los Alamitos that might not agree with Trump's immigration policy. But they still supported this vote, because Brown's law violates their commitment to our nation's laws.
California will try to force Los Alamitos to follow their law. But they can fight back. They might even take this to the Supreme Court, given it affects the Constitution.
The bottom line is California's sanctuary law forces local police to disobey the federal government. They are not allowed to cooperate with authorities. This gives criminals protection from the government. How is that constitutional?
Don't be surprised to hear more cities follow in Los Alamitos' footsteps. There are plenty of patriotic citizens and leaders in California. It's time that they stood up to their tyrannical governor.
Source: Fox News