California Court Rules on Church Lockdown Fines – For Defying the State, They Just Rejected $200,0000 in Fines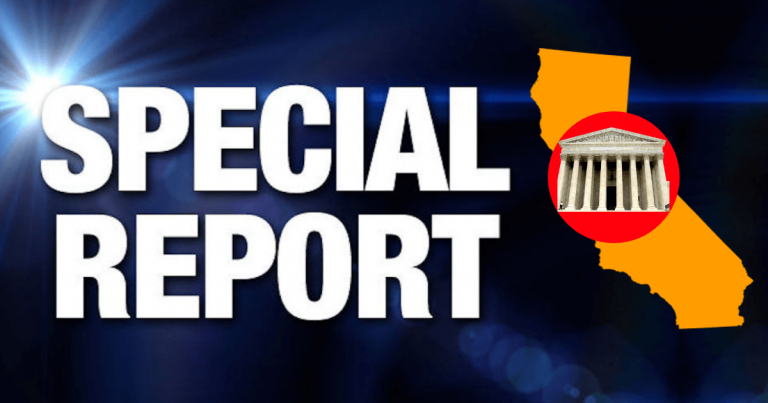 What's Happening:
It might feel like a long time ago, but millions of Americans haven't forgotten what Democrats did to them in 2020. Blue states ripped the rights of free Americans by shutting down schools, businesses, and churches.
In the communist state of California, they even fined one church hundreds of thousands of dollars. Their great crime? Exercising their First Amendment rights.
But thankfully, the courts sided with the Constitution.
From ABC News:
A California church that defied safety regulations during the COVID-19 pandemic by holding large religious services won't have to pay about $200,000 in fines, a state appeals court ruled…

But on Monday, California's 6th District Court of Appeal reversed those lower court decisions, citing a May 2020 ruling by the U.S. Supreme Court in February 2021 that a ban by Gov. Gavin Newsom on indoor worship services in counties where COVID-19 was surging violated freedom of religion.
A state appeals court rejected $200,000 in fines California threw at a church in San Jose during the Democrat-enforced lockdowns.
Far-left Gov. Gavin Newsom passed stringent limits on churches. He denied free Americans the right to worship while allowing liquor stores (and abortion clinics) to stay open.
Numerous blue states tried to crack down on Americans' First Amendment right to exercise their religious faith.
In Chicago, they actually sent a SWAT team to raid a church on a Sunday. In California, they sued numerous churches, trying to fine them insane amounts of money.
At another time in our history, it would have been unthinkable for a state to ban worship at churches. Nobody in our country would have stood for it.
But the radical left used fears of the virus to overstep their lawful authority. They shut down private businesses, schools, and even sued churches during a time of crisis.
We were supposed to just blindly obey people who seemed to have it out for people of faith. It never occurred to these Democrats that trying to shut down churches violated the "free exercise" clause of the First Amendment.
Or, they didn't care.
Many believed it was never about "slowing the spread," but establishing a pattern they could exploit whenever they wanted. The next time there is an emergency (or even a bad storm), Democrats would try to abuse their power again.
But thankfully, court rulings like this have put them in their place.
Key Takeaways:
A state appeals court threw out a $200,000 fine against a California church.
The state fined the church because it met during Gov. Newsom's lockdown.
The Supreme Court had ruled restrictions on churches violated the Supreme Court.
Source: ABC News