California Governor Targets 2nd Amendment – Newsom Just Made It Legal to File Lawsuits Against Gunmakers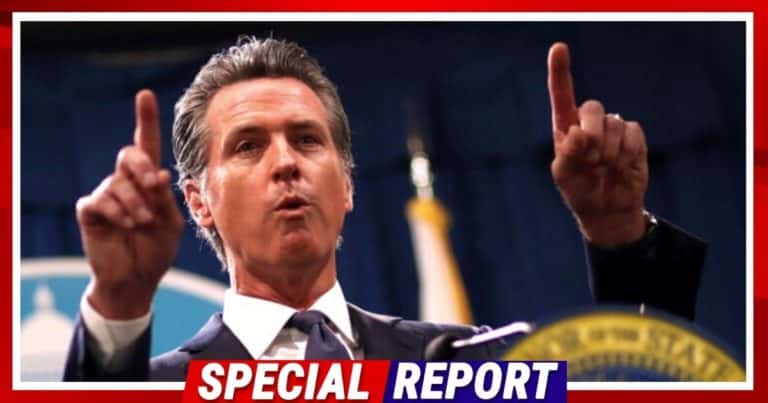 What's Happening:
Joe Biden's gun control agenda might only go so far in Congress. But that hasn't stopped blue states from pushing as hard as they could against the Second Amendment.
The Supreme Court overruled the states' ability to suppress Americans' right to carry a firearm. But in one liberal state, they are taking steps to punish the people who make firearms.
From Daily Wire:
Democratic Governor of California Gavin Newsom recently [signed] several gun measures into law, including one on Tuesday that would allow lawsuits to be filed against gun makers.

The law, AB 1594, creates a "firearm industry standard of conduct," including the requirement to "[e]stablish, implement, and enforce reasonable controls" and "[t]ake reasonable precautions to ensure that the firearm industry member does not sell, distribute, or provide a firearm-related product to a downstream distributor or retailer of firearm-related products who fails to establish, implement, and enforce reasonable controls."
Although there are already federal standards in place for the production and sale of firearms, California just passed a series of laws that will further complicate how Americans buy guns.
The laws put new burdens on gun makers, opening the door to make them suspectable to lawsuits.
The bottom line is, that if a gun is used in a crime, these laws will give the state a reason to sue the gun maker.
Now, why should a gun maker be held responsible for the actions of a criminal? Good question!
This really isn't about preventing crime or stopping bad people from getting guns (since there is always a black market).
What this is about is Democrats trying to punish gun makers, to discourage them from making and selling guns.
The more the government interferes with private business, the harder it is for companies to turn a profit.
And when a state puts new burdens on an entire industry, that industry will suffer.
Don't think this will stay limited to just California. If gun makers want to continue doing business in the state, they will have to comply with these laws.
That means, in effect, every law-abiding citizen in the country will have to deal with these laws.
This isn't the first time socialist California's aggressive, anti-business policies have hurt the rest of the nation.
They routinely pass strict laws that hurt companies, which in turn hurt everyone else.
Except lawsuits come out challenging these laws.
Key Takeaways:
Leftist governor of California passed new laws targeting gun makers.
The strict new rules will open the door to lawsuits against gun companies.
The goal of these laws seems to be to punish and constrict gun makers.
Source: Daily Wire