California Judge Turns On Governor Newsom – Rules Gavin's Law "Unlawfully Discriminates" Against Freedom Of Speech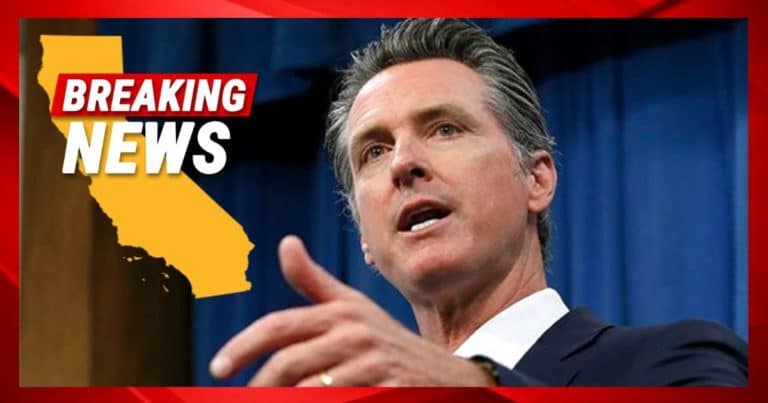 The battle between abortion rights and freedom of speech and religion rages on. Many states are dealing with multiple lawsuits in these areas.
This includes California, where a pro-life group was stopped from providing services to pregnant women.
However, a state judge just stepped in.
Last month, California Gov. Gavin Newsom signed SB 742, a bill that many claimed violated individual freedoms.
Right to Life of Central California is a "peaceful outreach to women in need," and it doesn't involve abortion.
But Newsom's law stopped this group from helping pregnant women — in their own parking lot. This quickly kicked off a court challenge.
That's when Alliance Defending Freedom (ADF) stepped in.
They're a nonprofit legal organization that fights to protect religious freedom, free speech, and other personal liberties.
And they just scored a victory. Via The Daily Wire:
The U.S. District Court for the Eastern District of California ruled Saturday that SB 742, signed by Newsom in October, likely unlawfully discriminates against Right to Life of Central California's peaceful outreach to women in need.
Newsom's SB 742 law banned "certain free-speech activities" in certain situations.
According to the rule, it involves people "within 100 feet of the entrance or exit of a vaccination site."
In this case, Right to Life is located right next to a Planned Parenthood abortion clinic that hands out the HPV vaccine, so that was the problem.
ADF argued there was no reason why they shouldn't be able to speak with women in need on the shared sidewalk:
The Outreach Center's parking lot is adjacent to Planned Parenthood's parking lot, and the two organizations share a sidewalk.

Right to Life's staff and volunteers speak kindly and peacefully with others at a normal conversational distance to share their charitable support services.
ADF Senior Counsel Denise Harle called this a win for "every speaker in California."
Harle said she applauds the court's decision "to protect the First Amendment rights of every Californian, regardless of their viewpoint."
This is becoming an increasingly contentious issue across the nation.
Many people, especially among the Republicans and Conservatives, believe their basic freedoms are constantly being infringed upon.
And in Democrat-run states, certain rules are definitely questionable in regards to the Constitution.
Key Takeaways:
A California judge ruled that one of Gov. Newsom's laws "unlawfully discriminates."
Right to Life argued that they should be able to help women in need. It's a First Amendment issue.
Alliance Defending Freedom calls it a win for "every speaker in California."
Source: The Daily Wire