Largest Caravan Yet Gives Biden a Direct Order – They Just Told Joe to Keep His Promise for Asylum, Could Reach 15K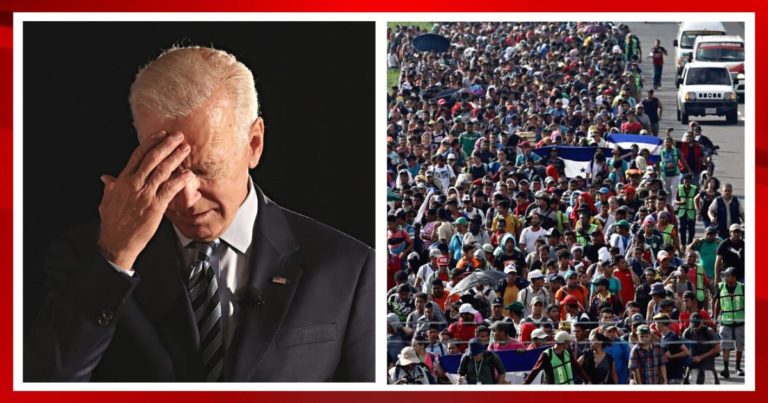 What's Happening:
Despite everything we've seen, Biden seems to refuse to secure our Southern border. Conditions are deteriorating in Texas and Arizona as thousands of migrants continue to force their way in.
As many Republicans explained, this is by design. Biden has welcomed undocumented strangers to barge into the U.S.
Now, the largest migrant caravan is on its way. And one member is demanding entry.
From Fox News:
A Haitian migrant taking part in what could be the largest ever migrant caravan through Mexico to the U.S. is demanding that President Biden keep his promise to allow them to stay once they reach the border.

"He promised the Haitian community he will help them," the migrants, who were interviewed by Fox News Friday, said. "He will recall Title 42. He will help us have real asylum."
Wow. Never thought I'd see the day that migrant beggars had as bad a sense of entitlement as American college students!
But that's the upside-down world we're living in today, thanks to Comrade Joseph Biden.
One of the migrants of a caravan of 10,000, and possibly more, demanded Biden let these people into the United States.
Some estimate the caravan will only grow, with people from countries other than Haiti. The number could get as high as 15,000.
That's larger than the population of many border towns. Where is Joe going to put them all? I doubt blue states will see many migrants overrunning their streets.
Biden has been called out for using relief funds to bus and fly migrants to all corners of the country. Many suspect he is dumping these people in swing or red districts, hoping to change voting demos.
The bottom line is, the United States is not the world's dump grounds. How can Biden let in thousands, perhaps millions, of strangers, when actual Americans are struggling?
But it doesn't seem Biden cares. He will turn a blind eye to this crisis once again.
And the American people will be left holding the bag.
Key Takeaways:
Another migrant caravan, 10,000 strong, is headed for the border.
One of the Haitian migrants demanded Biden let them in.
The group of invaders could grow as much as 15,000.
Source: Fox News