After Hundreds In Caravan Storm Border – Mexican Troops Don't Hesitate, Unlike Last Time They Refuse To Allow Them Across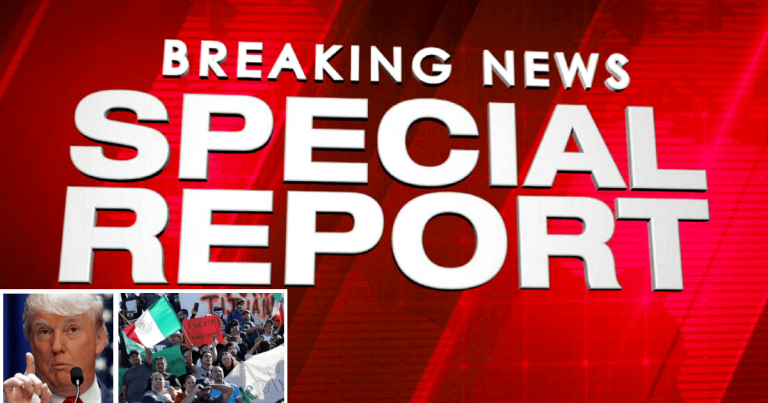 President Trump is tightening security at our Southern border. After years of problems, he's getting hundreds of miles of new wall built by the end of the year.
The numbers of attempts have dropped and we are looking at a safer United States.
But that doesn't mean the caravans aren't forming. We heard that "immigration activists" encouraged and helped the original caravans.
Perhaps they are still at work in South America. Because another huge group was seen trying to cross the border into Mexico.
Thanks to Trump's tough policies and deal-making, the Mexican military is stepping up and taking action.
From Western Journal:
Mexican authorities used tear gas and troops in an effort to contain migrants who waded across the river separating Mexico and Guatemala in an effort to reach America's southern border…

As the migrants crossed, Mexican National Guard troops were there to meet them…

Many migrants remained at the edge of the river and some returned to Guatemala, according to The Associated Press.
Woah. A group of roughly 4,000 tried to enter Mexico from Guatemala on their way to the United States.
But unlike what we saw in the past, Mexico is cooperating with the United States and blocking them from entry.
These caravans don't form on their own. In the past, activists (i.e.: liberals) helped organize these groups, putting them on buses, giving them legal instruction, and telling them the U.S. would roll out the red carpet.
Then Mexico would stand down, letting these groups reach our border.
But Trump put a stop to that. A new agreement means that if people seeking to enter a new country (via asylum) has to apply in the first country they reach.
Which means they would have to stay in Mexico. And Mexico, to their credit, isn't going to allow them into their land.
The Mexican authorities used tough, but safe, tactics to discourage the caravan from getting over the border.
When some tried to cross the river, the guards were there.
According to reports, many returned to Guatemala.
A handful may have gotten through, but Mexico is continuing to round them up.
The battle to protect our nation's borders is neverending. At least now, we are seeing progress, thanks to the president.
Now, all we need is a finished wall.
SHARE to thank President Trump for getting our border under control!
Source: Western Journal