Catholic Leaders Drop the Gavel on President Biden – U.S. Bishop Conference Just Censured Joe for Executive Order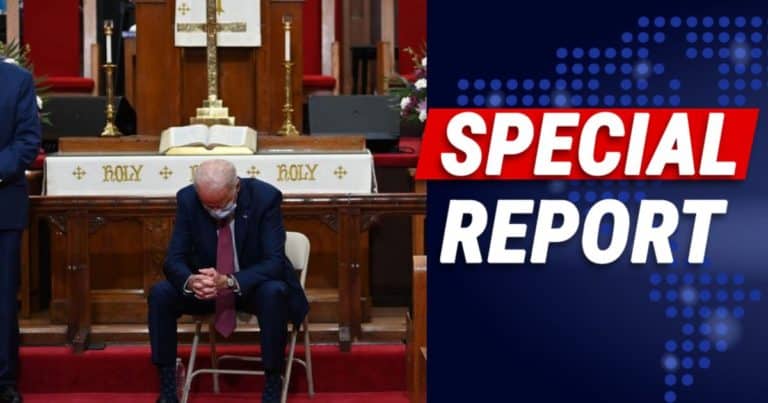 What's Happening:
Joe Biden (as well as many other Democrats) claims to be a Catholic in good standing with the church. Yet his liberal policies rarely align with the clear doctrines of Catholicism.
Especially in one big area.
Biden has issued several executive orders recently, to undermine states' rights on this very issue. And this has so outraged Catholic bishops, that they are fighting back.
From Breitbart:
The U.S. Bishops' Conference (USCCB) has censured President Joe Biden for this week's executive order aimed at streamlining abortion access…

"I am directing my Administration to take further action to protect access to reproductive healthcare services and to address the crisis facing women's health and public health more broadly." […]

In response, Baltimore Archbishop William Lori, chairman of the Bishops' Committee on Pro-Life Activities, issued a statement Friday calling on the president and all elected officials "to increase support and care to mothers and babies, rather than facilitate the destruction of defenseless, voiceless human beings."
The U.S. Bishop's Conference voted to censure Joe Biden over his pro-abortion agenda.
Chairman of the Bishops' Committee on Pro-Life Activities blasted Biden for signing EOs that make it easier for women to have abortions.
What can you say about a "Catholic" who is censured by the top leaders of his church in America?
I'm sure there are plenty of Catholics who run afoul of the church from time to time. But few of their sins are so heinous, that they trigger a censure from the bishops.
A censure is a strong warning from the Catholic Church, directed at Biden. Previously, Catholic bishops have refused to give Communion to both Biden and Pelosi—over their support of abortion.
You'd think this would be taken with the gravity it deserves by Biden and his ilk. But it doesn't seem that his "Catholic faith" has any bearing on Joe's decisions.
I thought faith was supposed to be the guiding light of anyone who believes. Apparently not for pro-abortion Democrats.
Their agenda has become so aggressive, in some cases, it's gone from "pro-choice" to "abortion-only."
Biden has gone from protecting abortion as a "necessary evil" to the only option for some women.
Key Takeaways:
The U.S. Bishops' Conference censured Biden over his pro-abortion policies.
The group called on all leaders in the U.S. to "build up a culture of life."
Biden and other Catholic Democrats have long opposed the church on this issue.
Source: Breitbart