"Cheesecake Chuck" Schumer Caught – He Spent $8,600 On 'Gifts And Bets' With Junior's Cheesecakes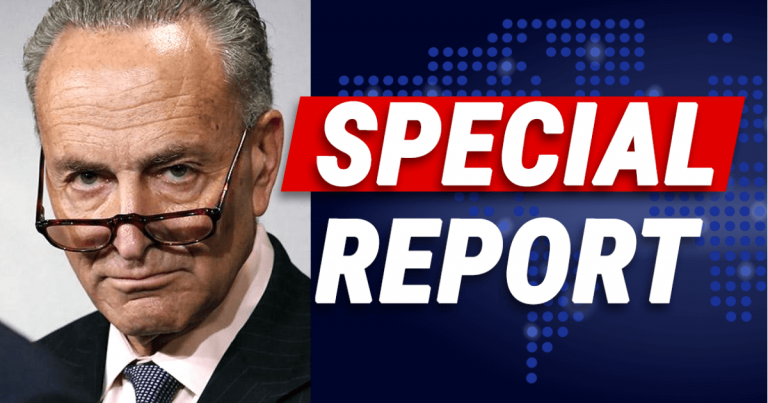 New York Senator Chuck Schumer has plenty of secrets come out of his closet. But none so… tasty?
The long-standing Democrat is no fan of Donald Trump. He's fought the president tooth-and-nail. And he's one of the first liberals to accuse the president of wrongdoing.
He was front and center during Trump's impeachment trial, fighting to drag out the hearings with more witnesses.
But perhaps the senator should be more worried about what's going on back home. Because a new report has come out, revealing some awfully surprising expenses.
Looks like Schumer's got a sweet tooth, and it's costing him big.
From Market Watch:
Turns out, Senate Minority Leader Chuck Schumer (D-NY) has spent more than $8,600 on cheesecakes in under 10 years, according to a New York Post analysis of Federal Election Commission filings between 2009 and 2016…

Friends of Schumer PAC paid NYC restaurant Junior's Cheesecake for "supporter acknowledgments" in amounts ranging from $46 to $516.45.
Dang. Schumer's PAC spent more than $8,600 on cheesecake as gifts to supporters.
That's hilarious—but kind of concerning.
If you're not familiar, Junior's Cheesecake is a famous restaurant in NYC. It created the famous "New York-style cheesecake."
It's worth the calories, believe me. But why are Schumer's people spending so much on dessert?
There's nothing wrong with a campaign giving out gifts to big supporters. It's not a crime to thank a long-time ally with a card or a thoughtful token of appreciation.
But $8000 on cakes? Come on Chuck, we know you're a New Yorker, but this is ridiculous.
You want your supporters to live a long time, right? Then maybe cut back on the indulgent treats?
On top of that, why spend so much on gifts? Your supporters donate money so you could run your campaign. There's got to be a better way to use it, right?
The report also says he used cheesecakes for bets. Uh… what? Okay, better than betting a million bucks (like some other Democrats), but let's get real here.
Can we take a man seriously when he's throwing around cheesecake this much?
SHARE to tell everyone what Cheesecake Chuck has been up to!
Source: Market Watch