Chicago Mayor Just Crossed a Hard Line – Lori Lightfoot Responds to Supreme Court Leak With a 'Call to Arms'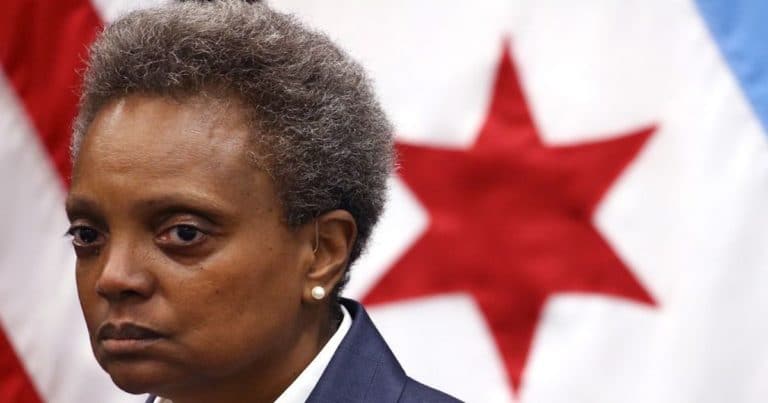 What's Happening:
It has been revealed that attempts to coerce the Supreme Court through protests are against the law. Federal law forbids anyone from protesting outside a court or the home of a judge, to influence their ruling.
But not only have activists been doing this, but Democrats are encouraging pro-abortion activists to harass and intimidate the highest court in the land.
And the far-left mayor of Chicago appears to be crossing a line.
From Fox News:
Chicago Mayor Lori Lightfoot was excoriated by critics late Monday following a tweet she posted that included a "call to arms" over the potential overturning of Roe v. Wade by the Supreme Court.

"To my friends in the LGBTQ+ community – the Supreme Court is coming for us next. This moment has to be a call to arms," the Democrat lesbian mayor tweeted…

"Example 1,354,678 that today's Democratic Party is evil," wrote Fox News contributor Lisa Booth, while political commentator Rob Maness tweeted, "Words of a seditionist inciting violence against the Federal Judiciary branch of the government."
Just how far will Democrats go to protect the heinous act of abortion? The mayor of Chicago is calling on gay people to "fight" against the court. She even said this was a "call to arms."
As usual, Democrats prove they have lots of anger and little brains. The potential ruling coming out of the court would end Roe v. Wade.
This means each state will have the power to pass its own abortion laws. It does not mean abortion is going away. Just that some states will pass laws banning it or restricting it, reflecting their residents' values.
What does that have to do with LGBT people? Lightfoot is equating a ruling based on the deliberations of nine qualified and appointed judges over one issue with some half-baked theory that gay people are in danger.
She is openly lying—but in doing so—could be provoking violence and harm. Some are even calling her statement a "call to insurrection."
Weren't Democrats very much against such things, just a year ago? But it's okay when they do it, right?
Democrats seem to only care about the law when it works in their favor. When it doesn't, to hell with it.
Key Takeaways:
Far-left Mayor of Chicago said the Supreme Court ruling was a "call to arms.
She claimed, with no evidence, that the court would go after gay people next.
Lightfoot incited people to "fight" to apparently change the ruling, a violation of the law.
Source: Fox News