Days After Chicago Mayor Orders Strict Lockdown, She Changes The Rules For Protesters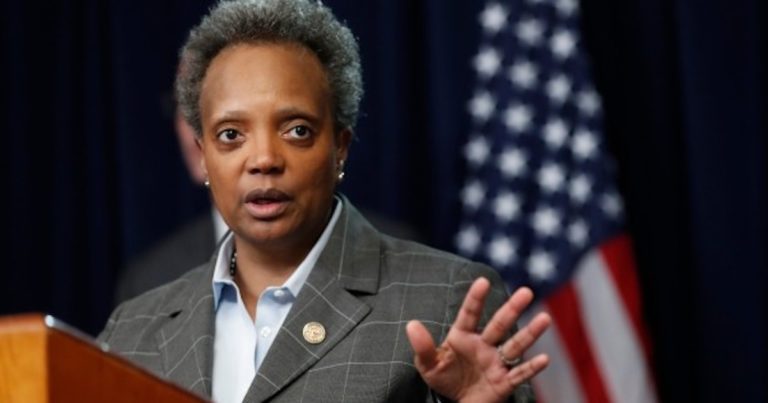 Democrat Chicago Mayor Lightfoot got national attention for her treatment of citizens during the lockdowns.
She extended her lockdowns and denied Americans the right to worship. She even sent police to raid a black church in South Chicago.
But now that protests and violent riots break out, guess what she's doing?
From CBS Local:
Chicago police officers have been ordered to "no longer use force to disperse large gatherings,"

… "Until further notice, large gatherings will only be monitored until the crowd disperse on it's own. Please ensure that all supervisors under your command are made aware of this instruction," top brass wrote in a memo to commanders and officers Thursday night.
Reversing her earlier policies over lockdown measures, Mayor Lightfoot is now forbidding police to "use force" to disperse large gatherings.
They are not allowed to intervene as protests turn into riots. Police are expected to stand down until groups leave on their own.
Sure… good luck with that.
Out Take:
There's clear hypocrisy going on in Democrat-run cities and states. A month ago, they were willing to arrest barbers for reopening their businesses.
Mayor Lightfoot sent a police raid to shut down a church, despite First Amendment protections.
Yet when Antifa and other anarchists gather to burn down cities and destroy property, the mayor wants the cops to be MIA?
Does this liberal mayor care about the lives of black Americans? I only ask because the majority of communities getting destroyed (by white Antifa members) are minority communities.
Businesses are being wrecked. Livelihoods are being destroyed. But the mayor does nothing. I thought that was her main job, to protect law-abiding citizens.
I guess it's appropriate, right? These Democrats destroyed the economy with unreasonable lockdowns.
Perhaps they want these rights back to finish the job!
SHARE to expose Lightfoot's hypocrisy.
Source: CBS Local