After Liberals Boycott Chick-fil-A – Their Sales Take A Sharp Turn, Becoming The 'Third-Largest' U.S. Chain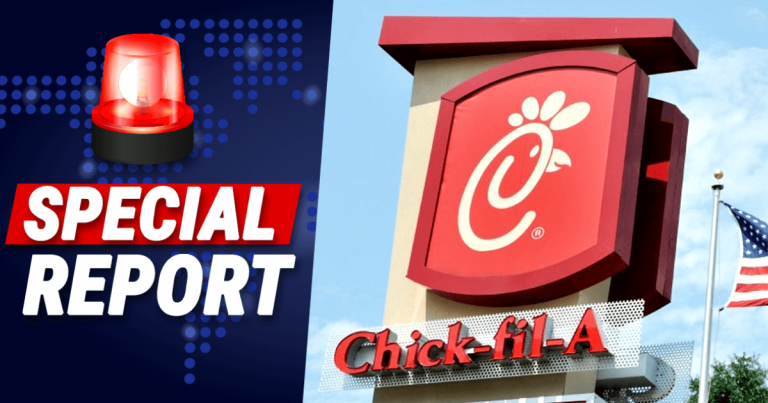 Democrats tried to make Chick-fil-A pay for their beliefs – well it had a major effect, all right!
It's no secret that Chick-fil-A makes quality food and has perhaps the best customer service of any food chain, and they stand for biblical values.
Most Americans know the company is owned and run by Christian founders. They are so committed to their faith, they don't open on Sundays. That's so their employees have time to go to church for worship.
But their firm stand for their values made them Enemy Number One to many liberal groups.
It has now been a decade they've tried to shut Chick-fil-A down by denying them service.
Yet a decade of boycotting has resulted in one thing: Chick-fil-A is growing like a weed.
From Washington Examiner:
In 2018, [Chick-fil-A] $10.5 billion in total sales, becoming the third-largest chain in the nation behind Starbucks ($20.5 billion) and McDonald's ($38.5 billion). It was a 16.7% increase in sales from the year prior.

An analysis credited the growth to a variety of factors, including the opening of nearly 700 more locations in recent years, low start-up costs, and digital sales via delivery apps.
The best part? Chick-fil-A has doubled its sales over the last ten years. That's during the same time liberal groups have tried to destroy it!
What does that tell you? That Americans aren't interested in boycotting companies with great food, no matter what their beliefs.
And that traditional Americans stand by our faith and with those who do the same.
Don't like that? Fine. But attempts to destroy a popular business because you don't like their faith or politics is going to fail.
Seems like I'm not the only one who feels that way.
When I visit Chick-fil-A in my neck of the woods, they're almost always busy. But that line moves with lightning speed and I'm greeted with friendly, helpful staff.
You won't find a restaurant with better service, I can promise you that.
So, while liberals go and melt like snowflakes—and push their boycotts—Americans will keep eating that chicken.
SHARE if you plan on going to Chick-fil-A this week!
Source: Washington Examiner