China-Biden Feud Just Burst into Flames – Military on Alert, President Xi Warns Joe Not to Play with Fire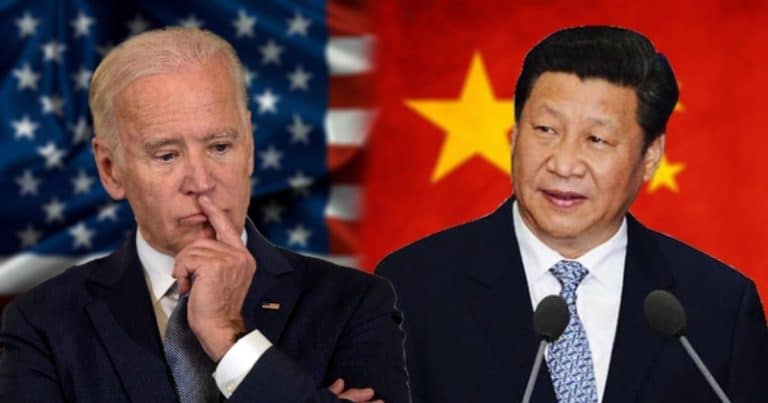 What's Happening:
Many Americans claimed President Biden has never been on the right side of any foreign policy decision in his life. Now America is about to find out how big of a mistake it was to elect a guy like that to run the country.
Joe Biden's weak stance on China could be quickly leading to disaster. Biden, despite what he said during the election, has refused to confront China's growing aggression.
China warned Nancy Pelosi not to visit. And now, our military appears to be mobilizing.
From MSN:
As tensions mount over US House Speaker Nancy Pelosi's potential trip to Taiwan, the Chinese navy has been monitoring the USS Ronald Reagan aircraft carrier's activities in the South China Sea…

Two other vessels – identified by Vietnam-based maritime observer Duan Dang as a Chinese Type 052D destroyer and a Type 054A frigate – were seen 27km and 23km away.
Now, it looks like China's threats against Taiwan could come true.
From Axios:
The timeline for a potential Chinese attempt to take Taiwan by force seems to be getting shorter…

Chinese President Xi Jinping warned President Biden not to "play with fire" over Taiwan on Thursday, according to the Chinese readout of a call between the two leaders.
China's dictator Xi warned Joe Biden not to "play with fire" as U.S. warships move in around the area. Also, China has disputed Biden's claim that he brought up their human rights abuses during the call.
This comes as Nancy Pelosi ignores warnings from China and American leaders and moves forward with her trip to Taiwan.
Some fear that China might invade Taiwan sooner, in response to the Biden administration.
Many worried about what would happen to Taiwan after Afghanistan and Ukraine. In both cases, Joe Biden failed to defend an ally and allowed enemies to invade.
China has long claimed Taiwan belonged to it. Joe Biden has waffled on support for Taiwan.
And his policy on China has been far from clear and consistent. His administration has made big boasts against the communist nation.
Yet they sit back as China buys hundreds of acres of land in the middle of the United States.
Biden's State Department failed to confront China early on during the administration properly. Their fumbling during a planned meeting in Alaska embarrassed America and allowed China to mock us.
It's unclear what Biden would do if China did invade Taiwan, threatening thousands of lives.
Chances are, he'd handle it as poorly as he's handled every other crisis he caused.
Key Takeaways:
S. and Chinese warships were moving around the South China Sea.
China warned Nancy Pelosi not to visit Taiwan, as they threaten the country.
Xi appeared to warn Joe Biden not to "play with fire."