China Just Folded On Pompeo's Accusation – They Admit They Purposely Destroyed COVID Lab Samples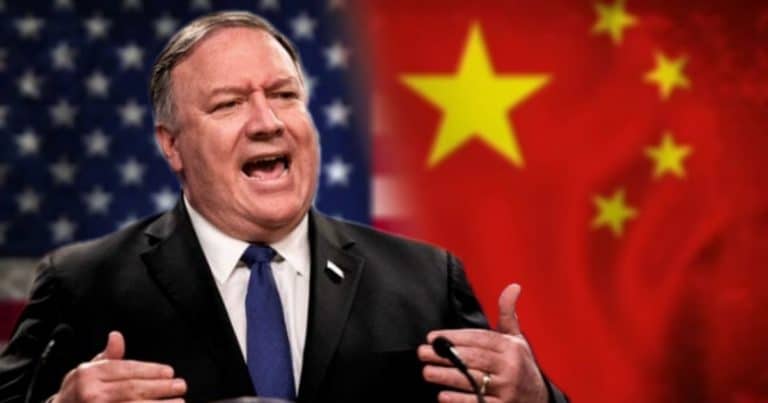 What's Happening:
Secretary of State Mike Pompeo has accused China of hindering the United States' ability to battle COVID-19. He has claimed the foreign country denied sending samples of the virus to scientists, even destroy what samples they had.
This sparked criticism from the mainstream media. Yet now, China is admitting he was right.
The Chinese Communist Party (CCP) admitted late last week that it destroyed coronavirus lab samples during the initial months of the outbreak, which originated in Wuhan, China…

By destroying the lab samples, China has made it significantly harder to identify the exact place where the outbreak originated which comes as there is a growing internationally coalition demanding an investigation into China over the pandemic.
Why It's Important:
The Chinese government has been pushing a narrative that is has been the "hero" of the virus pandemic. Media outlets and even the World Health Organization has repeated talking points from the communist regime, claiming they have been doing what's "best" for the world.
Yet the facts seem to suggest a different story. China has tried to accuse the United States of "creating" and spreading the virus. The foreign country supposedly suppressed news of the outbreak in order to hoard medical supplies. They refused to let CDC officials enter their country to study the disease.
Now, they are admitting they destroyed samples—preventing scientists in other countries from studying COVID-19 as soon as possible.
This new revelation could possibly lend weight to lawsuits aimed at China. Numerous countries are joining a movement to hold the communist nation financially accountable for their role in the outbreak.
Key Takeaways:
SoS Pompeo accused China of destroying samples. The CCP recently admitted this was true.
China and the WHO have tried to push a narrative they are leading the world in the COVID-19 battle, despite conflicting evidence.
New revelations could help lawsuits against China, which seek restitution over pandemic losses.
Source: Daily Wire