Seattle "CHOP" zone off to a troubling start – Second weekend shooting leads to injured teenager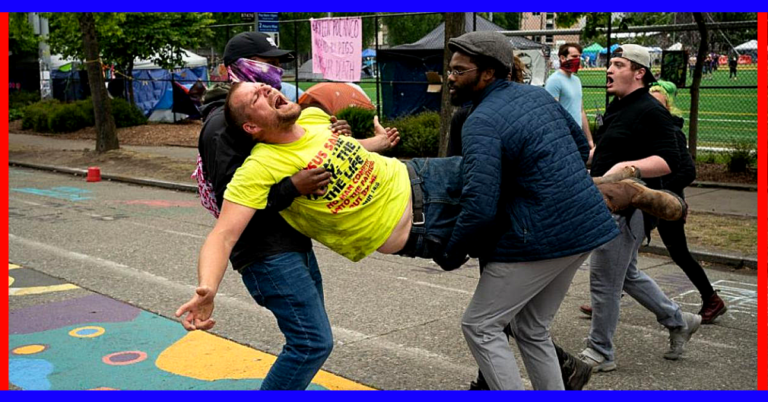 What's Happening:
The designated "CHOP" zone in Seattle had a difficult weekend.
On Saturday morning, the area suffered two shootings that left a 19-year-old man dead and a 33-year-old man in critical condition.
Unfortunately, that was not the end of the violence.
On Sunday night just before 11 p.m., medics raced to another shooting scene at Olive and 12th Avenue, which is just outside the designated CHOP area.
This time, the victim was a 17-year-old young man, but he'd already been brought to the hospital by the time medics arrived.
Hospital spokesperson Susan Gregg said the boy did arrive with a gunshot wound. But he was never formally admitted; he was treated and then released.
However, we have no other details about the shooting, and people are starting to wonder:
Is this just the end of a tough weekend at CHOP … or is this merely the beginning?
Furthermore, if medics can't reach these people in time, or that rescue system is disrupted in any way, that poses more problems.
Jim Fuda with CrimeStoppers of Puget Sound laments the loss of the 19-year-old who died on Saturday:
Would that kid still be alive today, if medics, our paramedics, were allowed to go in there and treat that kid before he went to Harborview where he's dead on arrival.
And the police may not be enough: Fuda wonders if it's time for the FBI to "take control."
He believes that the takeover of a certain area by armed citizens, may constitute federal crimes.
Local police have expressed frustration recently as well. But so far, there is no evidence of the FBI getting directly involved in CHOP.
What will happen in coming weeks?
Key Takeaways:
The Seattle "CHOP" zone suffers three shootings over the weekend. One led to the death of a 19-year-old boy.
Local law enforcement and health professionals have expressed frustration at dealing with CHOP issues.
Jim Fuda of CrimeStoppers thinks it might be time for the FBI to get involved.
Source: KOMO News