Seattle Mayor Just Flipped On CHOP – She Sends In The Police At 5 AM, Video Shows Them Cleaning House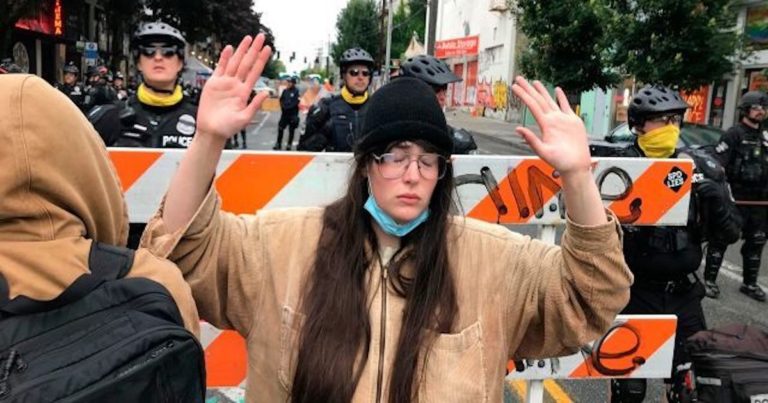 Seattle Mayor Jenny Durkan apparently had a change of heart.
When protesters took over part of the city's downtown area and turned it into an "autonomous zone," Durkan likened the incident to the "summer of love."
But things haven't gone as planned for the Capitol Hill Organized Protest (CHOP), or "CHAZ," as it later came to be known.
After several late-night shootings and the deaths of two teenagers, along with a host of other violent crimes according to police, Durkan changed her tune.
The Mayor ordered the Seattle police department to retake the East Precinct station house, and begin dismantling CHOP.
And it went down quickly (via Fox News):
Police issued the order to disperse around 5 a.m. local time Wednesday, telling protesters to leave within eight minutes. At least 31 protesters were arrested for failure to disperse, obstruction, resisting arrest and assault, police said.
Police found more evidence of potentially brewing violence as well. Check out them clearing the streets as a unit:
The Summer of Love ends early. The Seattle police retake CHOP. | pic.twitter.com/Cnvl3Du2qv

— Mike (@Doranimated) July 1, 2020
Another monumental video captured city workers dismantling the wooden and concrete barriers as police looked on. Instead of seeing protesters tear down statues, workers were lawfully removing walls put up by rioters:
The cops also investigated several vehicles circling the CHOP zone — officers saw passengers carrying firearms and wearing body armor.
Additionally, it was reported that protesters showed up at Mayor Durkan's house, though it's unclear as to what exactly happened.
However, it may not be coincidental that, soon after, Durkan called on the police to move in. Perhaps she will disclose more details about her experiences with the protesters in the future.
In the meantime, citizens have erected "autonomous zones" in other cities, though not on the same scale as the Seattle CHOP.
Initially dubbed a "peaceful" uprising of sorts, the Seattle protest definitely encountered its fair share of problems.
Will other attempts have the same result?
Key Takeaways:
Early today, Seattle Mayor Jenny Durkan ordered city police to move in on CHOP for "unlawful assembly."
The police have made 31 arrests so far.
It's interesting to note that Durkan issued the order not long after protesters showed up at her residence.
Source: Fox News