Christian NFL Player Appears to Get Censored – NBC Cuts Away When He Holds Up the Symbol of the Cross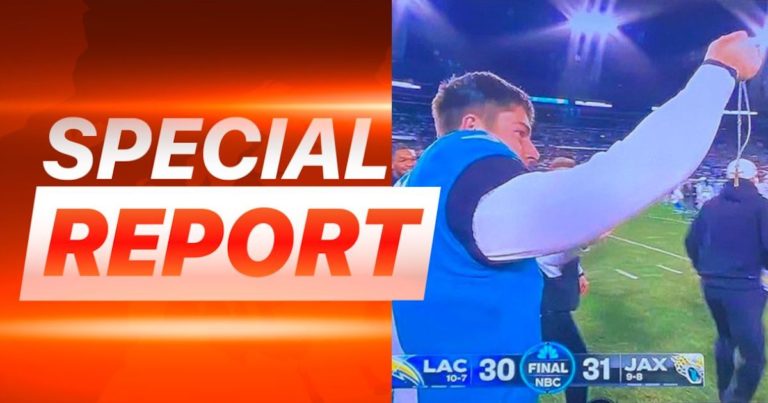 People of the Christian faith have been saying it for years: it feels to them like their religion is being threatened at every turn.
The anti-Christianity movement seems very real, while other religions are defended and even promoted among certain politicians.
Now, we might have another example of this disturbing phenomenon.
It happened at the end of Saturday's NFL playoff game between the Jacksonville Jaguars and Los Angeles Chargers:
It was noteworthy because the Jaguars staged one of the biggest comebacks in league history, storming back from 27-0 deficit to win on a last-second field goal.
Riley Patterson kicked that field goal and of course, he had every right to celebrate.
But what he did before that kick is what's getting all the headlines now — and perhaps rightfully so, given the circumstances.
Jaguars kicker Riley Patterson held up his cross necklace for the camera after kicking the game winner.

Pretty awesome ✝️ pic.twitter.com/qPnD6fbLvD

— Greg Price (@greg_price11) January 15, 2023
The issue is that it seemed like NBC immediately cut away the instant Patterson held up the cross.
Many people on social media noted this move:
Why did @nbc cut away from the @NFL game when Jaguars kicker Riley Patterson kicked the game winning field goal and held up his cross chain in celebration?

They cut away multiple times when he was showing his cross chain on camera? #NFL #NFLPlayoffs #JacksonvilleJaguars pic.twitter.com/lgiVDyV4oP

— Christopher Tremoglie (@cwtremo) January 15, 2023
Millions who watched this all play out live noted the odd sequence. It would've made perfect sense to show Patterson before the kick, and this would involve any pre-kick preparation.
It's common for cameras to center on the kicker before a huge field goal; they try to capture the emotions, any superstitious motions they might make, etc.
And yet, the instant Patterson held up the cross, those cameras disappeared.
WHATS REALLY CLUTCH ABOUT RILEY PATTERSON'S GAME WINNING FIELD GOAL IS HIM IMMEDIATELY REACHING FOR HIS CROSS TO GIVE ALL GLORY TO GOD.

WHATS SAD IS THE CAMERAS AVOIDED LETTING THAT MOMENT OCCUR .

LIKE A SOLDIER ON MISSION HE JUST BROUGHT THE CROSS TO THE PODIUM -Matthew 5:16 pic.twitter.com/LjJJx28IRd

— Houston Christian Football (@hcstangs_FB) January 15, 2023
Critics immediately pounced on the fact that cameras constantly fixed on NFL players kneeling during the National Anthem.
The networks never seemed to have any qualms about showing privileged multimillionaires protesting against the country that turned them into royalty.
As the Examiner stated in their analysis of the event:
Sadly, these anti-religious, Christophobic tactics are becoming all too familiar in our country.

Television has zero problems showing a man dressed and identifying as a woman or couples participating in sexually-suggestive behavior; however, showing an athlete thanking the Lord is too much for television.
Obviously, "social justice" is fine to put on the screen regardless of who it might offend.
And many believe that had Patterson held up a symbol of any other religion, the cameras wouldn't have gone anywhere. Anti-Christianity appears to be the only reason.
This is bound to elicit all sorts of pushback from the many Christian Americans who are tired of feeling oppressed and persecuted.
Key Takeaways:
Jaguars kicker Riley Patterson held up a cross before making a big kick in a playoff game.
Cameras apparently cut away the instant he did so, causing many people to believe this was intentional.
Critics say it's another example of the disturbing anti-Christianity movement, and note that cameras always show "social justice" protests at games.
Source: Washington Examiner