Christian QB On the Verge of Making History – And He Has 1 Powerful Message Of Faith For America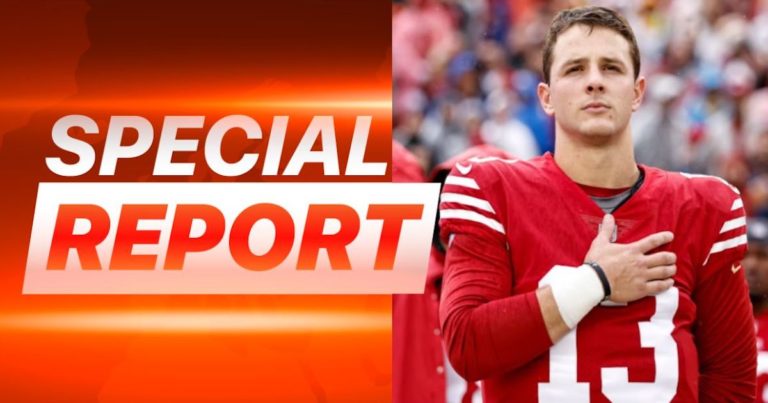 For many Christians in the country, it often feels as if their faith is under attack. Or at the very least, suppressed and roundly criticized.
This seems odd in a country where such a high percentage of the population still identifies as Christian, but the suppression does feel real. That's why stories of pro-Christian celebrities often get lots of attention.
In this case, the celebrity is a rookie quarterback who is on the verge of making history — and yes, he's a devout Christian.
The San Francisco 49ers will square off against the #1 seed Philadelphia Eagles in the NFL Championship. The winner heads to the Super Bowl in February.
The QB for the Niners is Brock Purdy, a rookie who wasn't expected to play much. He was the last player selected in the 2022 NFL draft and he was third in line in the 49ers QB rotation.
First was Trey Lance but he was injured during the second game of the season. Then San Francisco lost replacement Jimmy Garoppolo on December.
That left Purdy and amazingly, he has delivered in spades. The 49ers just kept winning with Purdy at the helm, and now he could become the first rookie QB to ever start a Super Bowl game.
But it's his Christianity that takes center-stage, and he isn't afraid to say it; as he told Sports Spectrum:
Every time I step on the field I want to bring Him glory. Even when we lose, I point to God and thank him for the opportunity.

Everything happens for a reason; it's all a lesson from the Lord. It's a game, it's not my life. It took me a long time to realize this; I used to put football in front of the Lord.

I would pray for him to keep me safe and give me a good game, but it isn't about that.

Now I pray that I would make the most of the opportunity he's given me and, win or lose, that I would put him first.
Purdy also referenced his first hard week in football camp at Iowa State. He realized he was putting too much emphasis on football, and that he needed to ask for God's forgiveness.
He said it was a "great reminder of where my identity is," and it wasn't centered on a sport: it was Jesus. And Purdy said, "I continue to lean on Him."
It lightened the burden of winning and losing for Purdy, and he was able to put everything in perspective:
…it was just this peace that I had with Him knowing that, 'Hey, no matter what I'm going to face moving forward during college football, God and Jesus are going to be my identity.

And whatever I face, I won't be shaken from it. I've got a great foundation in Him.
A few weeks ago, NBC was criticized for apparently cutting away from NFL kicker Riley Patterson holding up the cross during a game.
At the time, many said network cameras never had any problem fixing on rich, privileged players kneeling during the National Anthem. But they cut away the instant a symbol of hope and faith arose.
That makes Purdy's devotion all the more powerful, and hopefully it's a sign that Christianity is alive and well in America.
Key Takeaways:
San Francisco 49ers rookie QB might make history, by becoming the first rookie QB to start a Super Bowl.
Purdy is a devout Christian and sends strong messages of faith.
He said he puts God and Jesus first, and that no matter what happens with football, "God and Jesus are going to be my identity."
Source: The Daily Wire