Clarence Thomas Breaks His Silence On Biden – Video Drops 2020 Supreme Court Gavel In Fresh Documentary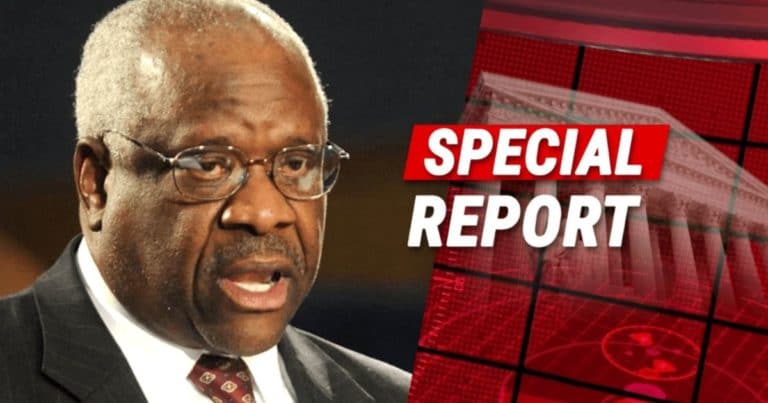 Clarence Thomas is seen as a respected and effective conservative member of the Supreme Court. The Silent Lion of the court, you might say.
Since his confirmation in the 90s, he's upheld the dignity of the court. Not to mention how he's fought to protect our Constitutional rights, again and again.
But there was one man who seemed strongly opposed to Thomas' appointment to the court: Joe Biden.
And Clarence Thomas is finally speaking out about the way Joe treated him in a new film. Here's just a brief, blistering clip.
From Daily Caller:
Supreme Court Justice Clarence Thomas criticizes former Vice President Joe Biden's stewardship of his 1991 confirmation hearings…

Thomas lamented that lawmakers do not seem to have full command of the subject matter during judicial confirmation hearings…

"I have to be perfectly honest with you — you sit there, and you have no idea what they are talking about," Thomas said…
Wow. Clarence Thomas called out Joe Biden's sad performance during his 1991 confirmation hearings.
Biden seemed to try to trap Thomas in an argument over "natural law philosophy and the Constitution." It looks to us like Biden was trying to get Thomas to admit his views on abortion—which might have cost him his appointment.
But the educated and intelligent Thomas didn't fall for his trap. In fact, he couldn't even make sense of what the "respected" senator was talking about.
Keep in mind, Joe Biden was responsible for something as important as a Supreme Court confirmation hearing. And the nominee—a judge educated in the law—says he couldn't understand what Biden was saying.
It's okay, Thomas. It's been many years and none of us know what Joe Biden is saying!
The man was in Congress for over 30 years. He was vice president. And we still don't understand him.
And now Joe wants to become president? I think Americans should listen closely to what Thomas is saying.
SHARE if you think Joe Biden is the wrong choice for America.
Source: Daily Caller