After Liberals Try to Get Clarence Thomas Fired – The Supreme Court Justice Gets Backup from GW University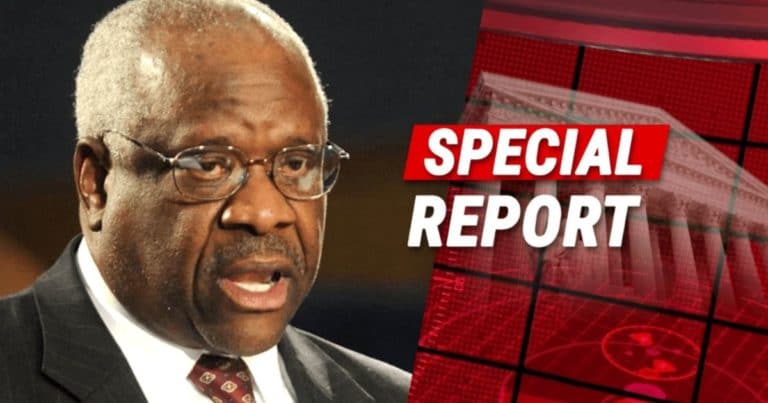 What's Happening:
Democrats are still reeling and plotting over the Supreme Court's decision to overturn Roe. And most of their anger has been directed at one man, Supreme Court Justice Clarence Thomas.
Leftists, including Hillary Clinton, have attacked the man—even slandering him over race and politics. Some have tried to get him fired from a post at George Washington University.
This is how the school responded. From The Washington Free Beacon:
George Washington University will not fire Supreme Court justice Clarence Thomas, an adjunct professor at its law school, amid left-wing cries on the internet for his termination after the overturning of Roe v. Wade…

"the university will neither terminate Justice Thomas's employment nor cancel his class in response to his legal opinions." The move to oust Thomas gained traction after the liberal group Change.org published a petition on its website, gaining thousands of signatures in a matter of days.
Nice try, woke safe-spacers.
George Washington University struck back after a Change.org petition circulated, demanding Justice Thomas be terminated.
The school upheld the value of "the robust exchange of ideas… and debate." Unlike the trend among some universities in recent years, it appears the school refuses to cower to "woke" students.
In the letter, the school makes it clear they will not fire a Supreme Court justice over a legal ruling.
If they had, it would have been degrading to the school's reputation. It meant that the school was unwilling to work with a respected justice, over something unconnected to the school.
And it would have meant the school's leadership was obeying the whims and demands of faceless users online. Not good for a place of higher learning.
Yet, that is what many leftists wanted: a kind of "punishment" against a respected leader over a reasonable legal decision.
It goes back to a common trend among Democrats. These days, if things don't go their way, they rant and rave.
They throw tantrums, ready to overturn long-held rules and systems (even democracy) to get their way.
Thankfully, this university refuses to play its game.
Key Takeaways:
Leftists demanded George Washington University fire Clarence Thomas.
The school published a letter, saying they will not fire the man over a legal decision.
The school upheld its support for "the robust exchange of ideas" at a time of woke censorship.
Source: The Washington Free Beacon, The Washington Free Beacon