Clarence Thomas Turns Heads Across America – He Just Went After the Media, May Want to Make It Easier to Sue Them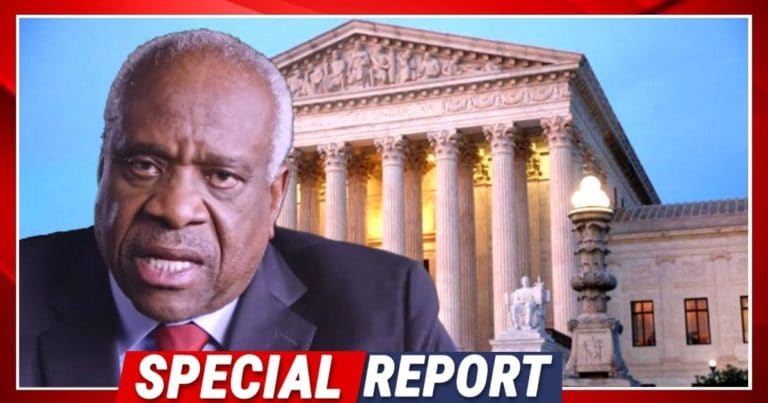 What's Happening:
The Supreme Court is wrapping up its current session. And it's not done shaking up the status quo.
The court recently ruled against a Christian ministry trying to sue the Southern Poverty Law Center, which called it a "hate group."
Clarence Thomas dissented from the decision and said an old ruling that protects the media needs to be overturned.
From The Hill:
Supreme Court Justice Clarence Thomas on Monday expressed a desire to revisit a landmark 1964 ruling that makes it relatively difficult to bring successful lawsuits against media outlets for defamation…

"This case is one of many showing how New York Times and its progeny have allowed media organizations and interest groups 'to cast false aspersions on public figures with near impunity,'" Thomas wrote.
A Christian group sued the SPLC because by calling it a "hate group" the ministry was unable to receive donations through Amazon.
The Supreme Court rejected the appeal, based on a 1964 ruling that protects media outlets when they attack public figures.
This decision has given outlets the power to "cast false aspersions" on people and groups, according to Thomas.
Unless a defendant can prove "malice" from the media, they have little chance of suing and clearing their name.
One rare exception was the case of Nick Sandmann, who was able to sue numerous outlets for how they portrayed him in the media.
Justice Thomas doesn't believe the old ruling should stand, because it puts too much of a burden on people who have been blasted in the media.
News outlets have near immunity from reprisals for making defamatory statements. Only in rare cases can someone sue and get justice.
But it's unlikely that this 1964 ruling will be overturned anytime soon unless Thomas can convince his fellow justices to agree with him.
Key Takeaway:
Clarence Thomas expressed a desire to overturn a ruling that protects the media.
A 1964 ruling protects media outlets from lawsuits if they defame a figure.
The justice believes this allows outlets to "cast false aspersions" on people.
Source: The Hill