After Clarence Thomas Stands Up To Supreme Court – Pelosi's Daughter Wants His Wife Investigated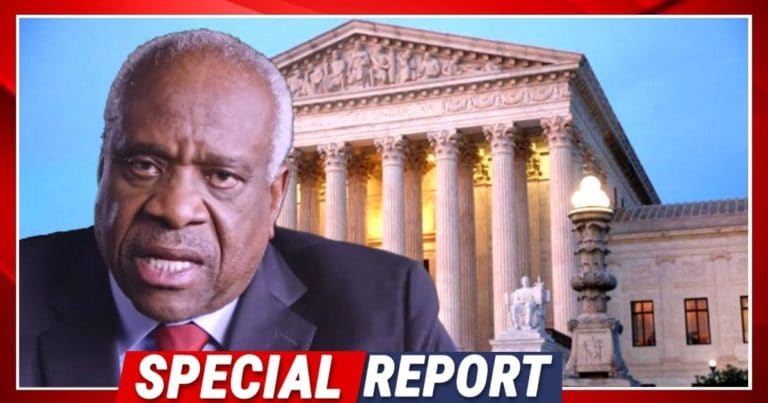 What's Happening:
Recently, Supreme Court Justice Clarence Thomas wrote a dissent over a decision by the court.
He accused the court of letting down their fellow citizens by not taking up an election case out of Pennsylvania.
The celebrated justice did not mention Trump or any other candidate. His concern was over the integrity and trustworthiness of our democracy.
But soon after he released his statement, Nancy Pelosi's daughter went to work. She is actually going after Thomas's wife.
From Western Journal:
Justice Clarence Thomas issued a dissenting opinion with concerns he had based on the Constitution.

As a result, the left decided to attack his wife and suggest that the entire family was too radical.
From Twitter: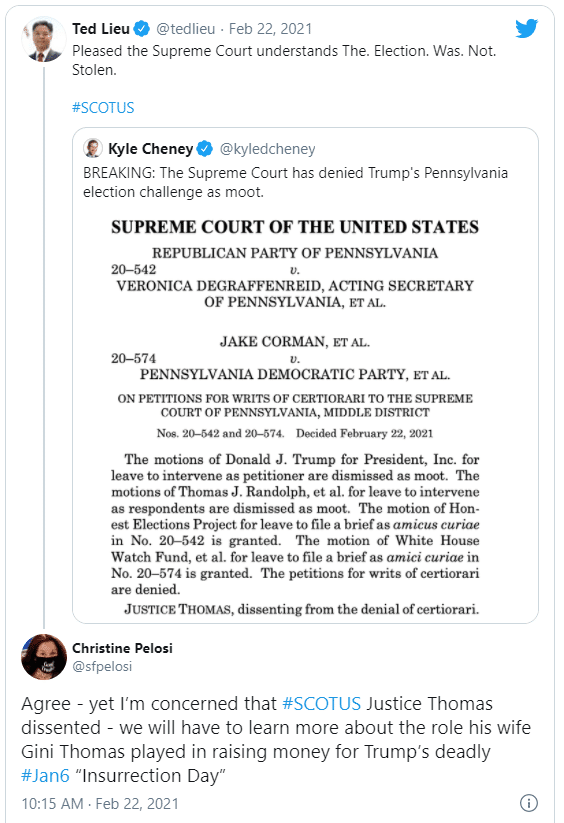 Why It's Important:
Christine Pelosi, daughter of leftist Democrat Nancy Pelosi, accused Thomas of somehow being involved in the events of January 6.
She claims that simply because Thomas dissented the court's decision not to hear this case, that his family was involved in Trump's "Insurrection Day." Pelosi even wants his wife investigated over supposed contributions.
Clearly, the left will be using the events of January 6 for as long as they can to persecute Republicans.
Never have we seen Democrats more devoted to oppressing their rivals, denying Americans their rights, and eroding the Constitution, over one event.
Even though we've seen no evidence that anyone connected with Trump was behind the upheaval, Pelosi and other leftists push this narrative.
Much like the Russian collusion hoax, they are pushing a line that Trump and his allies were behind January 6.
And for that, Democrats are justifying the eradication of free speech, the targeting of Republican congressmen, and even the persecution of a Supreme Court justice's wife.
(Not to mention how they have used it online to censor users on social media.)
Don't think this is going to go away anytime soon. Democrats got what they wanted out of January 6. And if you think they are going to back down, just because Biden is in office, think again.
They fear Republicans retaking Congress in 2022. And they certainly fear Trump returning in 2024. They won't stop until they stamp out any influential and respected Republican in the public square.
Anyone that refuses to get behind their far-left agenda will be smeared, vilified, and investigated. All to keep them silent.
Key Takeaways:
Nancy Pelosi's daughter targeted Justice Thomas over his dissent.
She suggested his wife contributed to "Trump's Insurrection Day," demanding an investigation.
Democrats have used January 6 as an excuse to censor, attack, and persecute conservatives.
Source: Western Journal, Twitter