After Students Protest Clarence Thomas Teaching – George Washington U's Law School Loses the Supreme Court Justice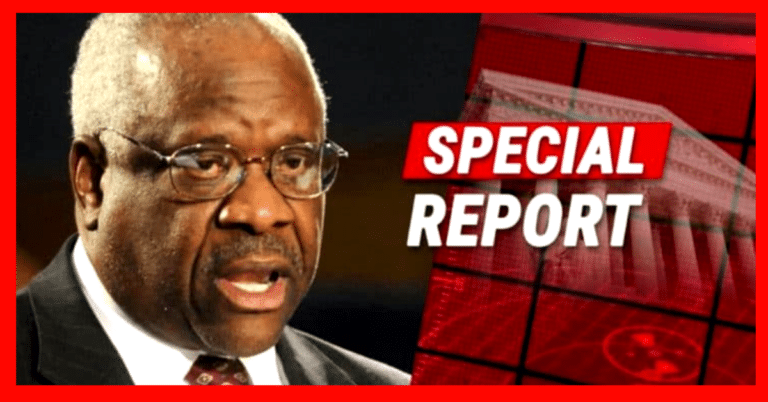 What's Happening:
Clarence Thomas is not just one of the greatest justices on the high court right now—he is one of the smartest defenders of the Constitution ever to serve on the court.
Not surprisingly, Democrats have never been fans of conservative Justice Clarence Thomas. Even before he was appointed to the Supreme Court, they slandered his character.
They have even wished him death, whenever he gets sick. In the aftermath of the Dobbs decision, the left is getting even uglier.
And it seems, in one episode, they won. From Fox News:
Supreme Court Justice Clarence Thomas will not be teaching a course at George Washington University's law school after students protested his role with the school.

An email announcing the decision was sent by Thomas' expected co-lecturer Gregory Maggs and obtained by Fox News Digital.

"Unfortunately, I am writing with some sad news: Justice Thomas has informed me that he is unavailable to co-teach the seminar this fall," Maggs wrote. "I know that this is disappointing."
Co-lecturer Gregory Maggs announced that Clarence Thomas would not be teaching with him during a seminar at George Washington University.
Students have been protesting Thomas's role at the school throughout the year. Some have called for the school to fire the respected justice.
The school has refused and condemned students' demands. But it appears Thomas himself has decided not to teach, at least this year.
Maggs had taught alongside Thomas since 2011. But this appears to be the first time demands from a minority of students interfered with his work.
Thomas has not officially explained why he will not teach. But it's hard not to believe he is doing this to avoid conflict and controversy from entitled, far-left students.
College students have long been the attack dogs of the radical left. These empty-headed, self-centered children lash out at anyone who refuses to kiss Bernie Sanders' feet.
It's a shame that such a group of spoiled brats is preventing Thomas from contributing to this school. Many students will miss out on hearing his insight.
But this will be our future if we let it. The far-left has long waged cancel campaigns against anyone who crosses their path.
They have silenced educators, scientists, entertainers, writers, and now a Supreme Court justice.
The radical left will not be happy until everyone who disagrees with them is bullied into silence.
Key Takeaways:
Clarence Thomas will not be teaching this fall at George Washington University.
Thomas made this decision after students protested his teaching at the school.
The radical left has long opposed the respected justice, over his conservative views.
Source: Fox News