After Climate Protesters Swamp Manchin's Vehicle – They Claim Joe Tried To Ram Through Them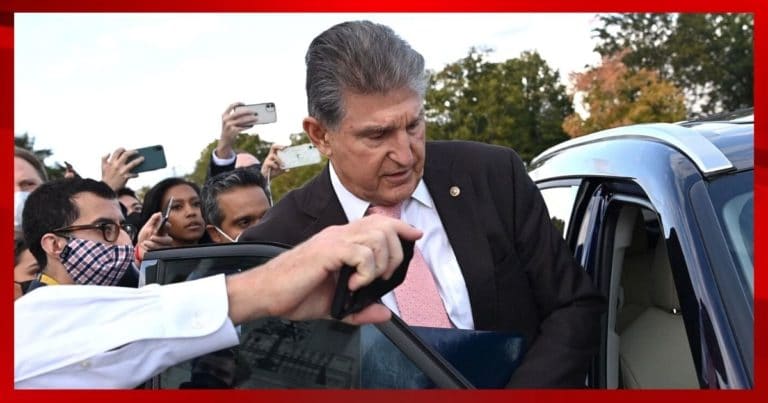 What's Happening:
Is there anything far-left activists won't do? We saw they were willing to riot in their own cities all last Summer. More recently, they blocked traffic in San Francisco and New York, endangering both their lives and others. They are willing to start so many problems, all in the name of "saving" the earth.
They'd probably do more to help if they got real jobs.
Most recently, they decided to harass yet another moderate Democrat. But this time, it wasn't Krysten Sinema, it was Joe Manchin. But when their pathetic antics didn't work, they cooked up a lie.
From Fox News:
Climate change protesters boasted Thursday about blockading U.S. Sen. Joe Manchin's car at a Washington, D.C., parking garage, accusing the West Virginia Democrat of trying to run them over in his attempt to exit the structure…

The group chanted, "We want to live! We want to live!" That phrase, along with "F— Joe Manchin," was the rallying cry of the demonstration aimed at convincing Manchin to support President Biden's multitrillion-dollar Build Back Better spending package.
Boy, these people are stupid. A group of climate activists blocked Joe Manchin's car as he was trying to leave a D.C. garage. When it was clear they weren't winning the man over, they claimed he tried to run them down.
Of course, that was not true. Had Manchin been crazy enough to do that, he'd be behind bars right now. Unfortunately, punks like this can harass law-abiding citizens, and they are rarely arrested or punished.
You have to wonder what is going through these activists' heads. Did they really think they'd convince Manchin to vote for a bill he's strongly against because they shouted at him in a garage? That's not a great strategy, no matter how you slice it.
But let's be honest. How did a group of unknown activists know exactly where a senator was parked—and when he was leaving the garage? Sounds like someone who knows Manchin's schedule tipped them off. Perhaps people within his own party staged this event, to rattle his cage.
After all, why would young, shiftless "activists" care so much about a bloated government spending bill that mainly benefits rich people in blue states? Unless, of course, progressive Democrats are getting them to do it.
It seems Democrats have to resort to these bully, mafia-like schemes to get their agenda done. Their ideas are so unpopular with Americans they have to use fear and coercion to get their way. Chances are, though, this will not motivate Manchin to change his mind.
If anything, he will use this to further stand his ground, now that the left is trying to make him a martyr.
Key Takeaways:
Activists harassed Joe Manchin as he was trying to leave a parking garage.
They later claimed he tried to run them over, without proof.
These activists were trying to intimidate the senator into supporting Biden's spending bill.
Source: Fox News