CNN Captions Writer Loses It On Live TV – During Trump Briefing, 3 Captions Accuse Donald Of Revisionist Propaganda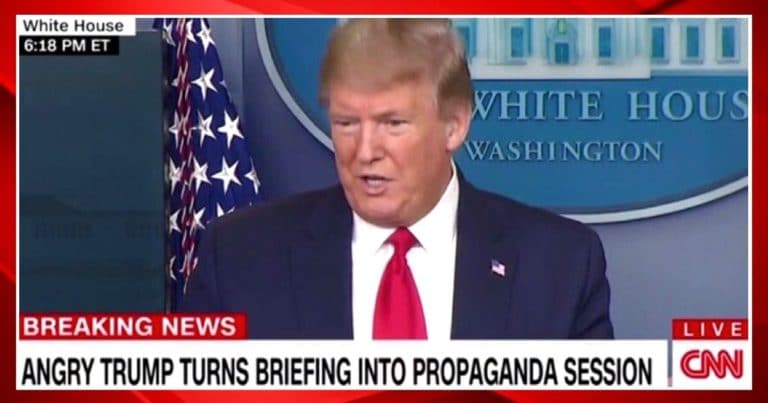 President Trump humiliated the media during his last press briefing—and it triggered a CNN employee in real-time.
CNN still wants us to believe they are unbiased news. Despite years of very negative—some might say unreliable—coverage of Trump, they claim to be a "trusted" source of information.
But when Trump pointed out how badly the media covered the pandemic early on, it must have ticked off CNN's captions writer. Because take a look at what they wrote, on live TV.
From Twitter: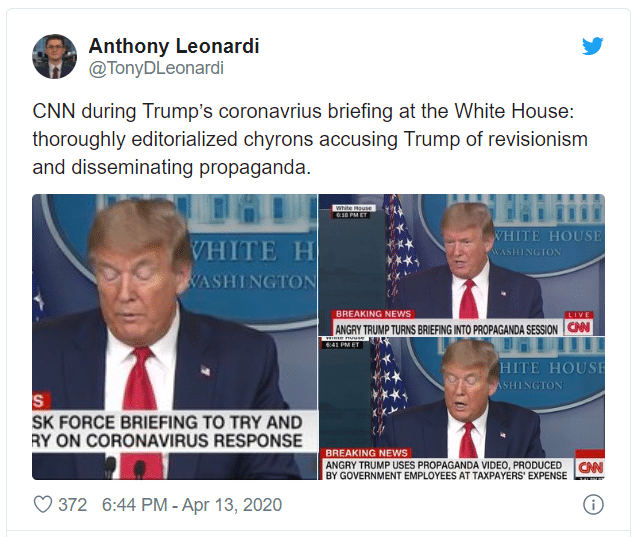 CNN during Trump's coronavirus briefing at the White House: thoroughly editorialized chyrons accusing Trump of revisionism and disseminating propaganda.
Yikes. CNN's chyrons (a.k.a.: captions at the bottom of the screen) revealed a naked biased toward the president. Here's a closer look at what they said:
TRUMP USES TASK FORCE TO TRY AND REWRITE HISTORY ON CORONAVIRUS RESPONSE
ANGRY TRUMP TURNS BRIEFING INTO PROPAGANDA SESSION
ANDRY TRUMP USES PROPAGANDA VIDEO, PRODUCED BY GOVERNMENT EMPLOYEES AT TAXPAYERS' EXPENSE
They called the President of the United States "Angry Trump." And they accused him of trying to "rewrite history."
I mean… wow. CNN cannot even pretend to be unbiased when they let their staffers write blatantly opinionated and biased captions like that.
President Trump was exposing how the mainstream media downplayed the virus early on.
As they continue to accuse him of acting slow, he pointed out how they didn't even seem concerned about this virus in January, February, or even early March.
I guess the writers at CNN don't like taking their own medicine. Outraged that Trump would confront them on their own failings, they lashed out.
Can you imagine what the media would say if Fox News did this to a Democrat leader?
Yet they give a pass to CNN—a "real" news outlet—when they do it to Trump?
This might be the clearest example of bias in the liberal media to date. Yet they still expect us to take them seriously. Or pretend they are honest, unbiased sources of news.
It's especially pathetic that they are doing this during one of the most difficult times in American history.
Millions of Americans are suffering because of this virus—and the strict response by our government.
Americans are seeking leadership and hope during this dark time. But what is CNN doing? Writing unprofessional, biased captions to bash our president.
Pretty shameful, if you ask me.
SHARE to show everyone how Trump made CNN lose it!
Source: Twitter