After CNN's Dana Bash Praises Trump – Liberals Bash Her, But Dana Stands Up And Defends Donald Again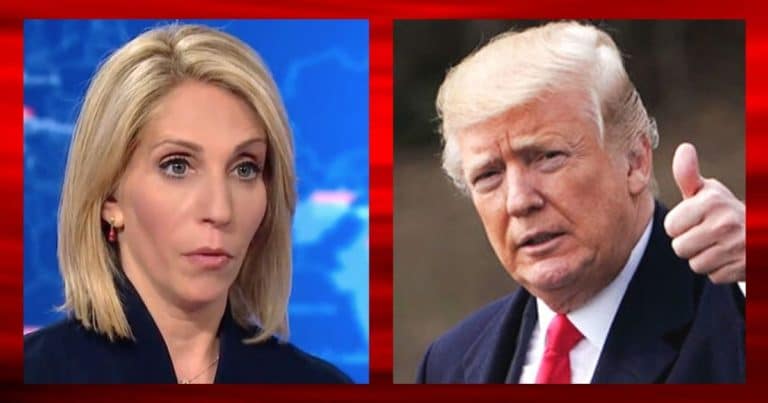 Did you hear about what CNN's Dana Bash said about President Trump?
With all the frenzied news, it's hard to keep up. But what we do know is that Trump is battling this virus with everything he's got.
Apparently, Dana Bash recognized that.
And it a moment of pure honesty, she said this to the CNN audience:
Woah. Bash said Trump's "being the kind of leader…that people need and want and yearn for in times of crisis and uncertainty."
I think all Trump supporters can agree. We elected him because we knew that he had the right stuff to lead this country.
Nobody knew that this would happen. But aren't you glad Hillary Clinton isn't calling the shots, right now?
I think every American should agree with Bash. But, as you can expect, Democrats were furious. Even during a time of crisis, they still can't stand Trump. And they went after this reporter over her statement.
From Daily Wire:
CNN anchor Dana Bash was hit with swift backlash from the Left after she applauded President Donald Trump…
I am going to lose my mind. Just this morning he was attacking state governors on Twitter. What on earth is wrong with you, @DanaBashCNN?

I feel like I'm in the twilight zone and he's getting celebrated for not doing his usual mudslinging. But he's still doing it on Twitter! https://t.co/36iYHfRYaN

— Erick Fernandez (@ErickFernandez) March 17, 2020
Liberals took to Twitter to complain about Bash. They are so blinded by their TDS, that they refuse to acknowledge the heroic job Trump's been doing through this situation.
Funny how they're quick to pile onto one of their own people, just daring to disagree with their narrative.
But did Bash apologize? Nope!
From Twitter: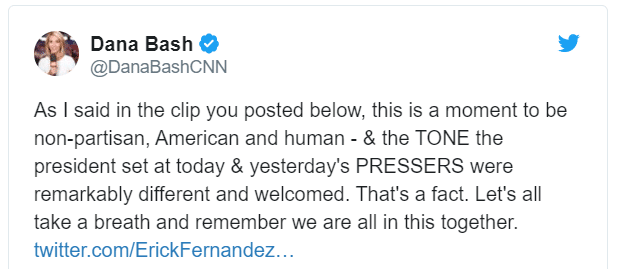 As I said in the clip you posted below, this is a moment to be non-partisan, American and human – & the TONE the president set at today & yesterday's PRESSERS were remarkably different and welcomed. That's a fact. Let's all take a breath and remember we are all in this together.
Bash stood by her statements and reminded the leftists mob that it's a time to be "non-partisan." Good point.
We may disagree about politics, but is this really a time to make petty complaints and spread divisiveness?
The country's facing uncertainty. Regular folks are on edge. Some worry about losing their jobs.
And elitist liberals are attacking someone for saying something nice about Trump.
We can't be too surprised. They've spent years hammering an anti-Trump narrative into their brains. They are unable to see recognize Trump's humanity and leadership. Why?
Because they programmed themselves to get upset about tweets and other nonsense.
Only a few liberals right now are waking up to praise Trump's leadership. It would have been very different under Obama or Bush.
Perhaps this crisis will wake up enough to respect and support the president. Or, the few that are praising him now will go back to slinging mud when this is over.
But we as Americans can support him, no matter what.
SHARE if you stand with President Trump, not the critical leftists.
Source: YouTube, Daily Wire, Twitter