Legendary Comedian Shreds the Woke Mob – They're Just "Waiting To Be Offended," Says Monty Python Star John Cleese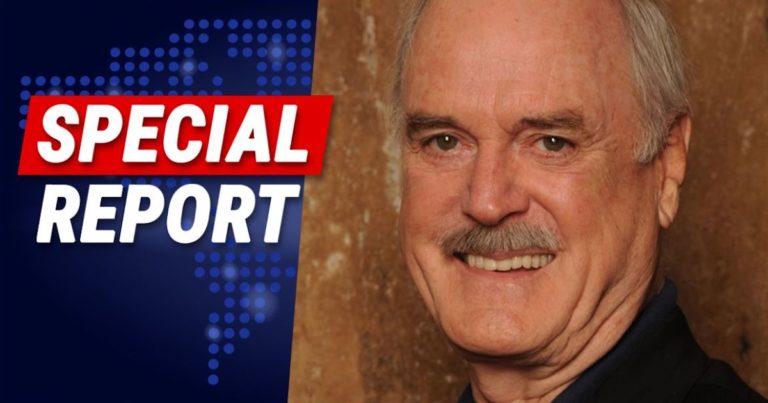 When it comes to telling jokes, it seems like the woke mob holds sway: everything is offensive, and everything should be policed.
Multiple comedians – ranging from Dave Chapelle to Ricky Gervais – have called out this phenomenon, saying it essentially destroys the medium.
Now, one of the most legendary funny men in the world is joining the fray — and he's not pulling any punches.
John Cleese, the versatile British actor and comedian, ripped the woke-invaded entertainment climate.
These days, it seems to many that the only people who can be mocked are straight white men; everyone else is off limits for a variety of race and identity reasons.
In a recent Reason interview, Cleese slammed the far left for "deliberately waiting for the thrill of being offended."
He added:
You think of an idea and you immediately think: 'Oooh, is that going to get me into trouble? Well, that person last Thursday got away with it.

But all that stuff immediately stops you being creative.
The Monty Python star said that basically, the "woke" simply takes everything too literally, and might not be bright enough to discriminate.
It's about irony and sarcasm when it comes to comedy, and that's Cleese's point:
The woke people, I think, miss something quite badly.

The meaning of a word depends on its context. If I use sarcasm, then what I'm meaning is the opposite of the words I'm actually saying.

If you don't get irony, then if you take it seriously, you completely misunderstand the intention of the writer or speaker.
Cleese is planning to launch a brand new show that will air in the UK, and he said we should all "prepare to be shocked."
It will be about cracking down on cancel culture and "people who believe they're purer than they actually are."
It's possible that some of those episodes will show up on YouTube, so U.S. viewers can view them — they'll likely be popular among conservatives.
Cleese at first supported more of the liberal bent in the entertainment world, but has since gone the other way.
He isn't the only one to start pushing back against the increased extremism on the left — the bottom line is that many say they've gone way too far.
Key Takeaways:
Actor and comedian John Cleese ripped the woke mob.
He said they're all just "deliberately waiting for the thrill of being offended."
Cleese added that they don't understand how irony and sarcasm works.
Source: Washington Examiner