After Comey Fails To Stop Trump – Barr's Justice Department Opens New Investigations on Comey, McCabe And Strzok, Says Mueller Prosecutor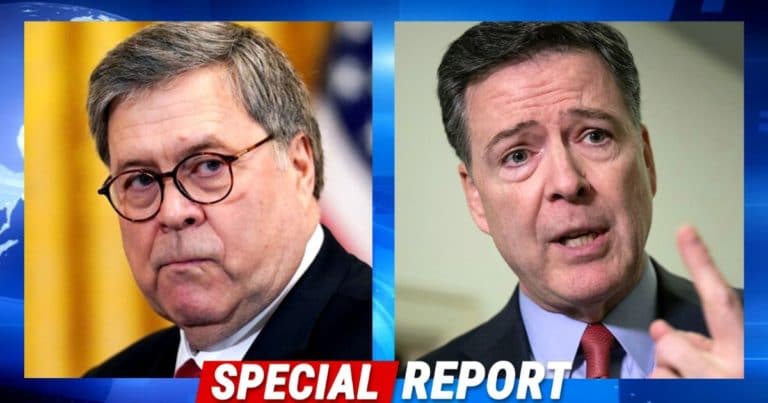 The deep state did its best to stop Trump. But all their schemes failed. The president was acquitted—and some say he is stronger than ever.
But there's one thing he must not be happy about. That the men who spied on his campaign (among other things) are walking free.
There is ample evidence to suggest DOJ agents abused their positions to undermine the president.
Somehow efforts to expose them have failed so far, even though the IG report called them out. Some people would just give up and move on in this situation.
But a comment from one of Mueller's men could crack this case wide open.
From Washington Examiner:
Andrew Weissmann, a former Justice Department official who was known as Mueller's "pit bull" during the Russia investigation, said the Justice Department swapped out the "loser case" of Andrew McCabe… for a fresh one targeting top former FBI officials, including McCabe…

"All they did was swapped out a loser case for starting an investigation that is going to be of Comey, McCabe, Pete Strzok," Weissmann told MSNBC host Chuck Todd.
Well, isn't this interesting? We recently discussed how AG hired prosecutors outside of D.C. to review the case against Michael Flynn.
But one of Mueller's "pit bulls" is claiming that this was just a ruse. According to him, these attorney generals are actually investigating men like McCabe, James Comey, and Pete Strzok.
You should know those names. These FBI and DOJ agents worked on the Russia "probe" into Trump's 2016 campaign.
They used the dossier to gain access to Trump staffer messages. Strzok called the investigation "insurance" to stop Trump if he won the election.
FBI Director James Comey shut down Hillary's email investigation, even though he admitted she broke the law.
Andrew McCabe faced charges for lying to investigators.
Millions of Americans have demanded these men (and others) be held accountable for the way they conducted themselves.
All three of these men have been connected to things that warrant investigations. Yet they all conveniently escape prosecution or accountability.
Meanwhile, men with even a casual association with Donald Trump get put through the wringer.
Double standard much?
If Weissmann is correct, these men aren't actually off the hook after all. Maybe they will be exposed for what they've done and face the consequences.
SHARE if you want the Washington swamp drained once and for all!
Source: Washington Examiner