Weeks After Congress Appoints Wheelchair Republican – Democrats Are Trying To Get Cawthorn Thrown Out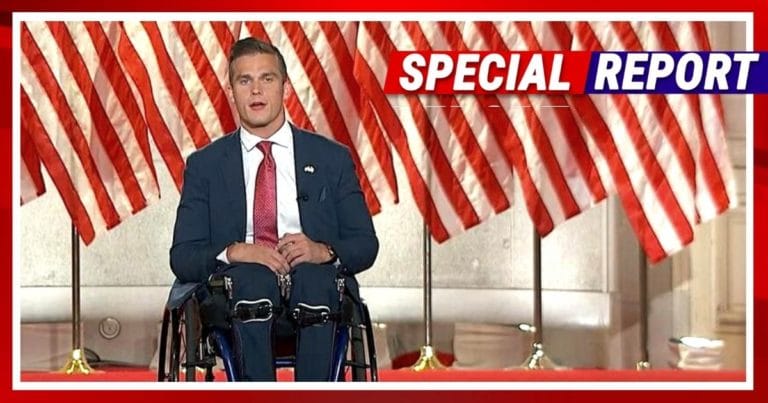 What's Happening:
In the aftermath of the 2020 Election, Democrats think they have leverage against Republicans.
It's clear they are using the events of January 6 to attack conservatives, hoping to turn Americans against them.
Yet every Republican has denounced what happened, including a newcomer congressman: Madison Cawthorn.
Cawthorn is the youngest person to be elected to the House in 50 years. He is also a disabled American, after being paralyzed in a car accident.
Despite his example of rising above adversity, Democrats are trying to get him thrown out of Congress.
From Fox News:
Democratic leaders from North Carolina's western-most district are calling for the expulsion of freshman Republican Rep. Madison Cawthorn, alleging his "seditious behavior" helped incite the "insurrection" at the U.S. Capitol last week…

"Mr. Cawthorn needs to be held accountable for his seditious behavior and for consequences resulting from said behavior," reads the letter, which was obtained and published by The Mountaineer. "We will not tolerate misinformation, conspiracy theories, and lies from our Representatives."
Using the events at the Capitol as an excuse, Democrats are trying to comb through Republicans' statements and remarks for ammunition to attack.
They are taking comments and tweets out of context to claim Madison Cawthorn, among other Republicans, is guilty of "inciting violence."
It's a convenient argument, like "hate speech," as you can't definitively prove someone has incited others to do anything. But it's clear Democrats are trying to capitalize on the event to create a new era of McCarthy-like persecution.
Democrats have been emboldened by social networks who have shut down President Trump and conservative accounts. Without proving anything, they silenced these Americans, claiming they violated their ill-defined and ever-changing rules.
It seems Democrats think they can ride that wave by making accusations against Republicans. Without due process or evidence, they think Pelosi has the power to eject a duly-elected congressman.
Is that what democracy has devolved into? A gang of angry leftists kicking out their rivals over made-up accusations?
Does the fact that Americans voted for this man mean anything to them? And where is the rest of the Republican Party to defend him?
Do you think Madison Cawthorn should be expelled?
Key Takeaways:
Democrats demand a new Republican congressman be thrown out.
They accuse him of "inciting violence" over statements made online.
They seek his "punishment" without due process and the rules of the House.
Source: Fox News