Moments After Congress Agrees On Stimulus Checks – Treasury Secretary Mnuchin Tells Americans They Will Begin Arriving Next Week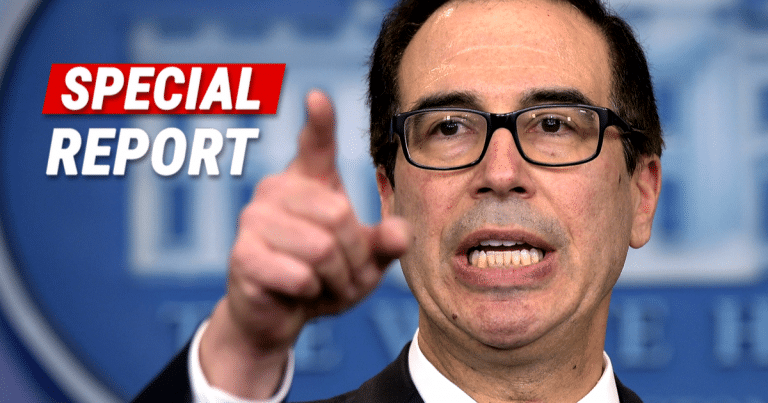 What's Happening:
Congress has long promised another round of COVID relief packages. But they delayed it for months.
Pelosi admitted it was about preventing Trump from getting another win before the election.
Meanwhile, millions of Americans continued to suffer—as states forced them into their homes.
Now, the "promised" relief comes in the form of $600 checks—half of what they said they would provide.
I'm sure some Americans are eager to learn when they'll get their checks. Treasure Secretary Mnuchin has the answer. From The Hill:
Treasury Secretary Steven Mnuchin said Monday that he expects Americans will start receiving stimulus checks as early as next week from the COVID-19 relief package that Congress is poised to approve.

"The president wanted direct payments, so we will be sending out next week direct deposit," Mnuchin said on CNBC. "I expect we'll get the money out by the beginning of next week."
If the package is passed and if it is signed into law, Mnuchin believes that the money will go out next week. Just in time… to miss Christmas.
This year has been marked by chaos, uncertainty, and the utter failure of the government to properly address the virus. The pandemic was made worse by states shutting down their economies, ruining the livelihoods of millions.
But a check from the government could not have solved the problem. Opening up the country (while protecting the most vulnerable) may have.
But at the very least, Congress could have quickly passed an additional package to show they cared a little bit.
All the delaying (thanks to Speaker Pelosi) only prolonged the suffering of millions. Now, the checks might get rushed out—but still after the holiday season.
You can't blame Mnuchin for this delay. After all, he has been trying to work with Congress for months on a solution. His department is more than ready to send out relief.
But the Democrat-controlled House put politics ahead of Americans. They did not want to do anything that could improve Trump's position in the election race.
Are you glad more stimulus checks are coming?
Key Takeaways:
Congress finally passed a second COVID relief package.
Americans will get half of what they were promised.
Mnuchin said the payments will go out on the Monday after Christmas at the earliest.
Source: The Hill