Congress Republicans Just Gave Trump An Election Demand – They Want Barr To Spearhead A 2020 Special Counsel Investigation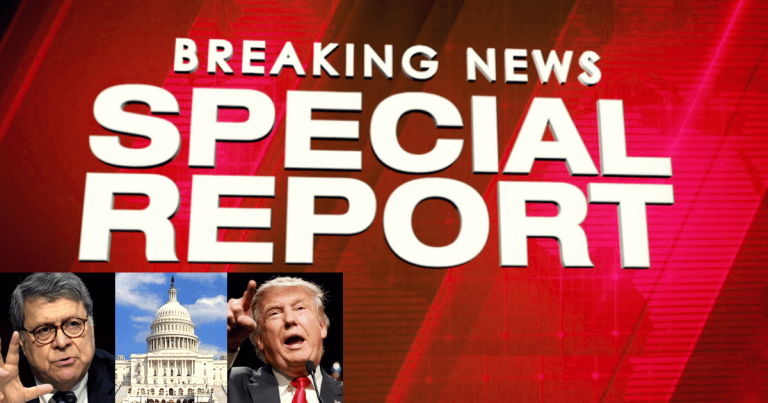 What's Happening:
The battle over the 2020 Election has been going on since Election Day. Now, a major case is reaching the Supreme Court, one which Trump calls the Big One.
But we still don't know how all of this will shake out. Will Trump be victorious and remain in the White House?
Or will a man who can't pronounce the names of his own cabinet picks (and their offices) become the "president?"
One thing we do know, Republicans are committed to not letting these investigations die after January 20. Because they are petitioning AG Barr to take direct action. From Fox News:
More than two dozen House Republicans are calling on President Trump to direct Attorney General William Barr to appoint a special counsel to investigate November's presidential election, according to a letter obtained by Fox News…

"The Department of Justice has been asked on multiple occasions to launch an investigation into this matter, but inaction from the department along with comments made by the attorney general indicate a lack of willingness to investigate the irregularities your campaign and other elected officials across the nation have alleged," the letter said.
Over two dozen Republicans are demanding Trump and Barr appointing a special counsel to investigate the 2020 Election.
These lawmakers have actually accused Barr and the DOJ of neglecting this important duty. They have even pointed to questionable comments by Barr to seem to undermine legitimate fraud concerns.
By appointing a special counsel, the DOJ will be setting up an independent investigation that will operate outside the department.
That means that the future administration—whichever that is—could not easily interfere and shut it down.
We all remember how Democrats demanded an independent counsel to investigate possible Russian interference with the 2016 Election.
Although they were dead wrong, that case lasted over 2 years and cost millions of dollars. Now, with real concerns over election "irregularities," are we not to expect a similar response?
Do you want a special counsel to investigate the integrity of the 2020 election?
Key Takeaways:
Republicans are demanding the DOJ set up a special counsel to investigate the election.
They accuse Barr of neglecting legitimate signs of election meddling.
Democrats conducted a 2+ year, special counsel-led investigation over the 2016 election.
Source: Fox News