White House Turns on Congressional Dems – Tremors of Liberal Civil War Return After Accusations of Failure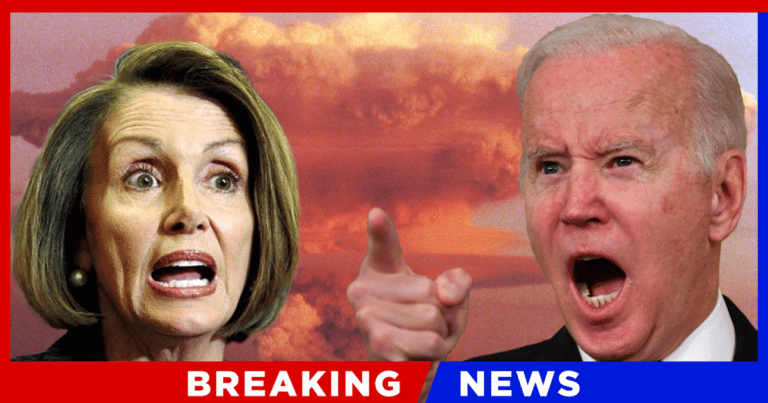 What's Happening:
It's no secret that, regardless of how the midterms shake out, people will be blaming Biden. Most voters will be going to the polls to express their views on the current administration. And, considering Biden has a very low approval rating, what voters have to say won't be good for the left.
But it doesn't seem that the White House is willing to take all the blame. Already, it seems the administration is trying to distance itself from the Democrat-controlled Congress. Recently, Biden's COVID-19 coordinator, Ashish Jha, was being grilled over a lack of preparedness for winter cases. Instead of taking responsibility for the failure, he pointed fingers… at Congress.
From Breitbart:
Dr. Ashish Jha, the Biden administration's COVID-19 coordinator, told reporters in the White House on Tuesday that Congress had failed to "do its job" on COVID-19 funding…

"But when Congress fails to do its job, we have to make some extremely difficult choices. We made the choice we wanted to make sure people had the — we had enough vaccines for Americans…"

"And, you know, the last point I will make about this is that, in my mind, it's unacceptable that Congress is forcing us to make these choices for the American people… And unfortunately, that is not where Congress has landed on this."
Wow! Talk about a bitter breakup! Biden's COVID-19 czar blasted Congress for failing to provide funding for PPE and testing as we enter the winter cold and flu season. When pressed by the media for why the White House was allocating only funds for some vaccines and treatment, he quickly blamed Congress.
Jha claimed the administration had to make "extremely difficult choices" regarding COVID preparation. All because, in his mind, Congress "failed" to provide enough funding for things like testing and masks.
Ashish? You do realize that Congress is controlled by Democrats, right? If you blame Congress for failing, you're blaming Biden's own party for failing to pass something with enough funding for those COVID provisions.
But it seems Jha knows what he's doing. Democrats are poised to get rocked by voters this November. They are about to lose their majority in the House and possibly the Senate. And everything is going to blame Biden, who is objectively the worst president in our nation's history.
So, members of his failing administration are trying to shift some of the blame to Congress. When Democrats lose big, Biden's team can point to these moments and say, "Hey, don't blame Joe. Democrats failed to do their job again and again."
I thought Democrats "always stuck together"? But, I guess this is another massive failure on Joe's part, being able to destroy his own party's unity. We've heard a lot about a simmering "Civil War" within the party–between moderates and progressives. Now, it looks like the war is opening up between the White House and Congress.
Key Takeaways:
The White House blamed Democrat-controlled Congress for failing to provide COVID funding.
Biden's COVID-19 coordinator claimed the lack of PPE and testing was because Congress "failed to do its job."
This comes as polling predicts Democrats will lose control of Congress and will blame Biden.
Source: Breitbart