Dershowitz Stuns Biden with His Brutal Verdict – After FBI Doc Erupts, He Announces Joe's Fate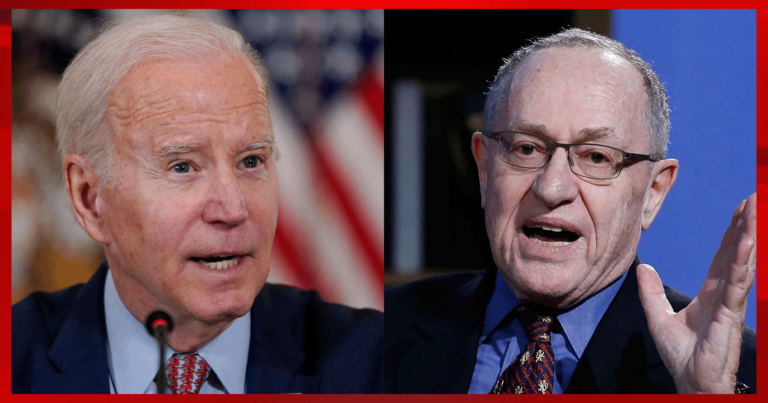 What's Happening:
The liberal media might be dancing in circles over the DOJ's indictment of Donald Trump. But turnaround is fair play, right? This indictment might affect Trump's chances are becoming president again, but the left just doesn't learn from their mistakes.
Right now, House Republicans are looking over an FBI document detailing Joe Biden's past misdeeds. This document could contain evidence that Biden conducted a pay-for-play bribery scheme, while vice president. And one legendary Harvard professor was discussing this situation. What he said should make Joe very, very nervous.
From Breitbart:
Harvard Law professor emeritus and civil libertarian Alan Dershowitz said Sunday that "of course" there is enough evidence for House Republicans to start an impeachment inquiry into President Joe Biden for bribery…

"Of course. I mean, the FBI statement by the so-called reliable informant, if they believe it to be true, gives them enough to investigate."
This could be the news Republicans have been waiting for. Constitutional expert Alan Dershowitz said there is enough evidence for Republicans to start an impeachment inquiry against Joe Biden's past activity.
This comes shortly after House Republicans gained access to a document by the FBI related to a possible $5 million bribery scheme between Biden and Ukraine. And only days after House investigators spoke about payments from China to Biden's family.
Huh… if Republicans don't even try an impeachment inquiry, they really are clueless.
Rep. Marjorie Taylor Greene, who was one of the House members to see the document, said they need to impeach. Even more moderate Rep. Nancy Mace appears ready to start the impeachment process.
Democrats, right now, are trying to convict Trump over what appear to be flimsy claims: holding onto documents and falsifying business statements. Yet Republicans are looking at evidence that suggests Biden is being bought off by communist China and corrupt Ukraine.
Who should really be behind bars?
Key Takeaways:
Alan Dershowitz said there is enough evidence for Republicans to start an impeachment probe against Joe Biden.
House Republicans have access to several documents suggesting bribery schemes between the Bidens and foreign nationals.
This comes as Democrats try to convict Trump over much weaker accusations.
Source: Breitbart