Cops Hunt For Suspect – Then He Gives Away His Hiding Place In A Very Embarrassing Way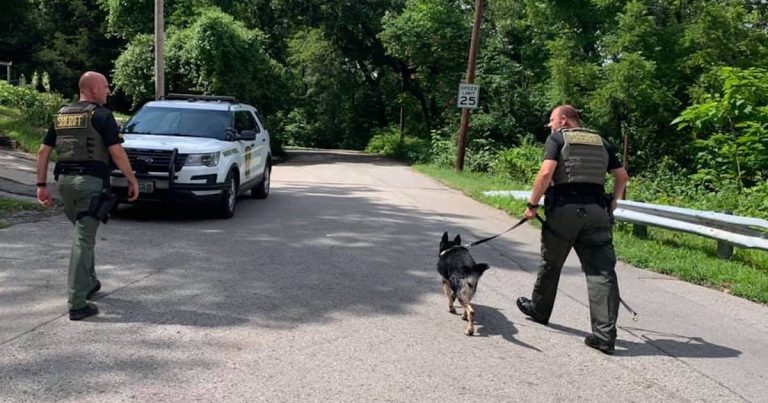 The police were about to go right past him, then the suspect… well… LOL!
Police officers have lots of stories to share from their time on the job.
Some are scary (even downright terrifying), but others are just plain hilarious.
And those are the stories that bring a smile to everyone's day, especially to other law enforcement officials who often need a pick-me-up!
Case in point:
Officers in Clay County, Missouri were searching for a suspect last week; the man was wanted for possession of a controlled substance.
Now, this guy was cleverly hiding and maybe he would never have been found.
…well, provided he hadn't had that extra burrito for lunch, or something.
Because just as the cops were about to move on without noticing the suspect's hiding place, he revealed himself in the most embarrassing way:
He passed gas!
The noise alerted the searching officers to the suspect's spot, and that was it. He was brought into custody.
As you might guess, the cops in Clay County are having a ball with this one.
They've updated their Facebook page with a picture of the police searching, and the perfect caption: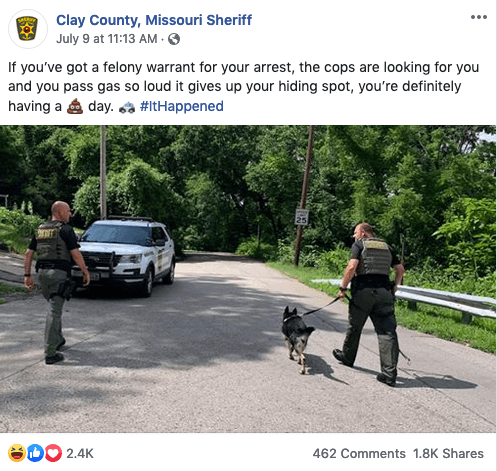 "If you've got a felony warrant for your arrest, the cops are looking for you and you pass gas so loud it gives up your hiding spot, you're definitely having a 💩 day."
Maybe unsurprisingly, this post has already been shared 1,800 times and has 2,400 reactions!
And chances are, it's just going to get bigger, because this hilarious story has a great chance of going viral.
I mean, who doesn't want to hear about the suspect who got caught because he farted too loudly?
That's just comedy gold right there. 😉
This is the sort of thing that lightens the load on our officers, too; it mitigates the strain of an extremely stressful job.
For my part, I hope those who serve end up with more funny stories, as opposed to scary ones!
Source: Liftable