Senator Cotton Pulls Mask Off Chinese Government – Accuses Them Of Continuing To Lie About Their Numbers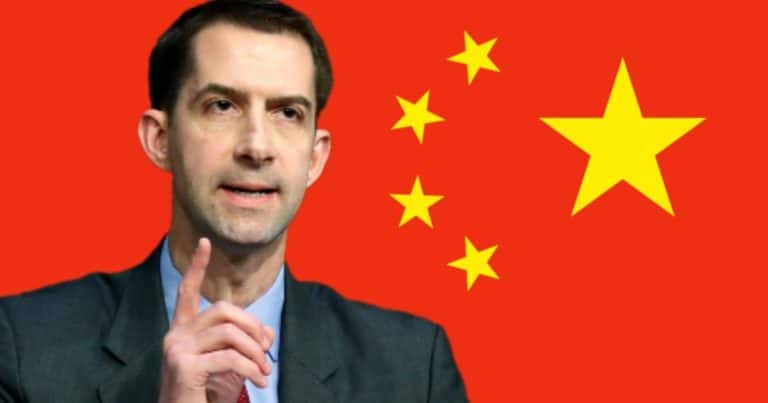 Many Americans are convinced China is responsible for this global crisis.
Apparently, they didn't report the problem for months. They told the WHO at one point that disease couldn't even be transmitted from person to person.
Many people think the nation isn't being honest about how bad they were hit. Some suggest they have under-reported the number of cases in their country.
Yet you can count on our media to parrot China's numbers—and claim the U.S. has the most cases.
But Sen. Tom Cotton, who has been after China from the beginning, is calling out the communist government.
From Fox News:
Sen. Tom Cotton, R-Ark., is calling out the Chinese government for continuing to lie about coronavirus, after their initial response to it – according to him – caused it to become the global problem that it is…

"You see it again today. So, for instance, China says they have no more new cases, no more new deaths, yet they just closed all movie theaters nationwide only a few days after having opened them up," he told Fox News… adding that Wuhan mortuaries also tell a different story from government officials.
Boom. Sen. Cotton is saying the Chinese government is continuing to lie about the virus.
He is suggesting that, based on how the nation is acting now, the number of infected is much more than they reported.
Cotton points to the fact that they just closed theaters, which had only recently reopened.
China reported only 2,500 deaths. But Cotton mentions that a mortuary in Wuhan ordered more than 5,000 urns. Oh, really?
You know, plenty of people die from various causes a day, worldwide. But such a sudden uptick in urns? That suggests a large number of deaths all at once.
Are more people in China dying than they claim? If so, are the numbers of infected cases much higher than the approximately 80,000 they are touting?
Cotton was one of the first American leaders to question China's honesty about the virus. Way back in February, he was demanding answers from the communist government.
We know the virus originated in Wuhan. In that region, there is a super laboratory that researches infectious diseases. Coincidence?
What about the fact that China refused to let our CDC officials from entering the country to acquire much-needed data? Or how they kicked American journalists out of the country?
The only people that seem to take China at its word are American mainstream media outlets. The same ones that claim this has all been Trump's fault.
But what about our government? Numerous reports indicate members of Congress are working on legislation to hold China accountable.
Perhaps we can show our support—to make sure China doesn't worm out of its responsibility.
SHARE to expose what the Chinese government is doing.
Source: Fox News