Country Legend Picks Sides in Bud Light Boycott – And It's Not What Anyone Expected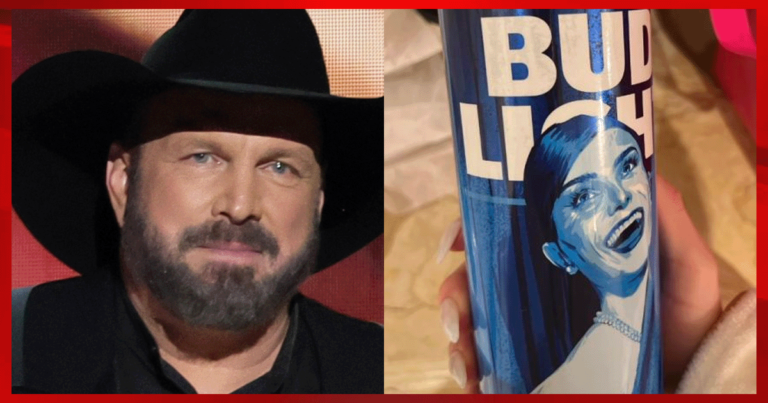 What's Happening:
When Bud Light went "woke," it injected itself into a hotly contested political issue. The company took sides on the transgender issue, supporting a group that appears to be in favor of grooming children and violating parental rights.
Very quickly, notable celebrities–including several country music stars–backed the boycott. A few of them, owners of bars, vowed to stop selling the beer. Another country music star, chart-topping artist Garth Brooks, is wading into the controversy. He is opening a new bar and he made it very clear which side he was on.
From Fox Business:
Garth Brooks' new bar will be selling "every brand of beer" when it opens, the country music crooner insisted in a new interview…

"I want it to be a place you feel safe in… Our thing is this: If you [are let] into this house, love one another. If you're an a–hole, there are plenty of other places on lower Broadway."
Country music legend Garth Brooks is bowing the knee to the political left. When he opens his new bar, The Friends in Low Places Bar & Honky Tonk, he will be selling "every brand of beer," including Bud Light.
But he went on to slander people who have boycotted the beer based on their strongly-held convictions and beliefs. He claimed supporting the transgender movement is "loving one another." I guess he doesn't care that a transgender murdered teachers and children a few months ago.
He called American patriots who are boycotting Bud Light for siding with groomers and drag queens "a–holes" who were essentially not welcomed at his bar.
Pretty hypocritical of liberals to do that, huh? In one breath Brooks said everyone is welcome and "safe" in his bar, but spewed hostility and hatred toward Americans with traditional views and beliefs.
Isn't it hilarious how Brooks is milking his success in music by opening a bar named after a hit song? Yet, he is alienating the very people who once sang to his tunes. I doubt a lot of West Coast liberals are Garth Brooks fans.
Yet Brooks is torching conservative country music fans to win the favor of leftists. Does he really think the soy-latte-drinking, D.C. swamp-loving, drag queen-supporting left is going to visit The Friends In Low Places Bar & Honky Tonk?
Something tells me… no way.
Key Takeaways:
Garth Brooks took a side in the Bud Light boycott, supporting the beer company and transgenderism.
Brooks claimed those boycotting Bud Light are "a–holes" who are not welcome at his new bar.
The country music singer is opening a new bar, which might be boycotted on the first day.
Source: Fox Business