After Couple Notices 18 American Troops At Lunch – Their Next Move Leaves Everyone Speechless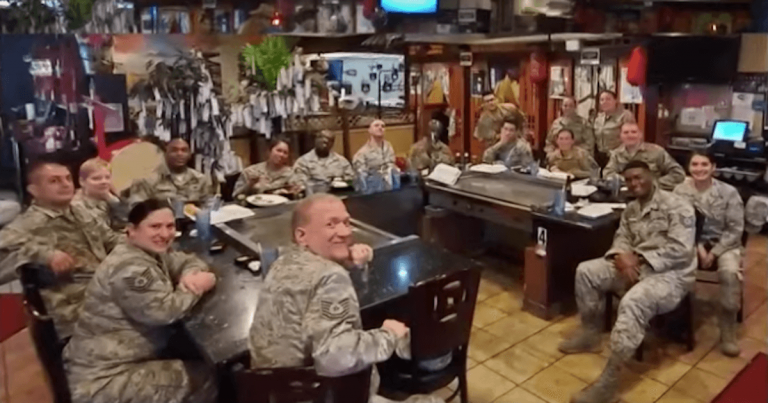 These 18 military graduates will NEVER forget it!
When Air Force graduate Alyssa Zehler sat down to lunch with her 17 comrades, she had no idea what was about to happen.
They were all wearing their uniforms to celebrate their upcoming graduation, and the meal began normally enough.
But then a couple with three children walked over, and everything changed.
What did that family of 5 want?
Well, they wanted to thank the military members for their service, as Zehler said:
"[I]t was incredible.
This woman offered to take a picture, a group photo of us, she had her family there, her two sons and her daughter with her husband and she's talking to us and she thanked us for our service."
But wait.
That's not the amazing part. I mean, it's great the family did this, but they actually went one step further…
After the picture was taken and Zehler and her graduates thanked the family for their support, they went back to their lunch.
They thought the show was over, and were happy with the uplifting encounter.
However, when they were finished, they suddenly discovered that that family had made another amazing gesture (via Liftable):
"Zehler said that when it was time to pay, the restaurant hostess told them there was no need.

Not only had the anonymous couple paid for all 18 meals, but they tipped the servers and chefs, too!"
How's that for a surprise gift?!
This might be one of the most truly honorable and respectful things anybody has ever done for a group of new military graduates.
And Zehler was really blown away, too:
"It left us speechless.

It brought some of us to tears. It was a very heartwarming thing."
In response, Zehler decided to post that group photo of her buddies on Facebook, and offer her thanks to the anonymous couple.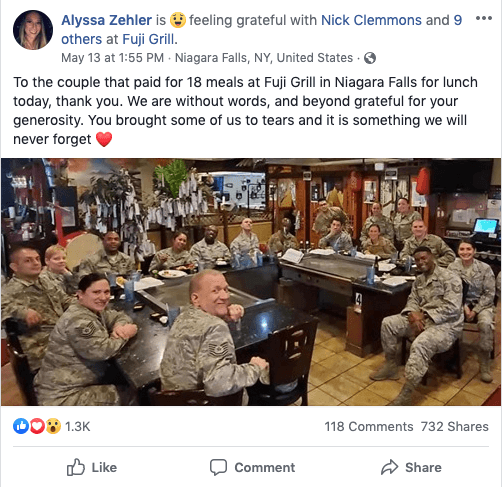 "To the couple that paid for 18 meals at Fuji Grill in Niagara Falls for lunch today, thank you.

"We are without words, and beyond grateful for your generosity.

You brought some of us to tears and it is something we will never forget."
Now THIS is the sort of news we like to read!
Here's hoping that more people will make such incredible gestures in honor of our heroes.
That's the respect and thanks they deserve, after all.
SHARE this heartwarming story with your fellow patriotic friends!
Source: Liftable