Federal Court Just Reversed Border Order – Breaks Stalemate And Sends Donald's Wall $3.6 Billion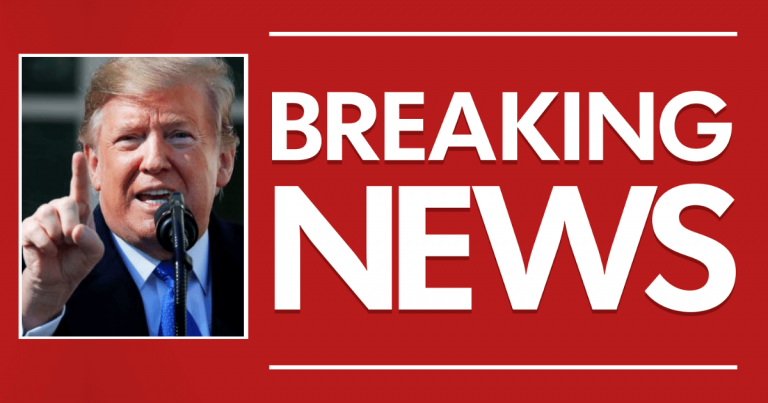 We're back in business!
And if you're a border wall supporter, you're definitely going to appreciate the biggest news of the day…
No, it has nothing to do with Iran. That's fizzling out as we speak, and Americans are returning their attention to more important matters.
For example, border security.
President Donald Trump's mission to build a big beautiful wall along our southern border continues. And he just earned a big victory.
After a judge blocked billions that we desperately needed for construction, a federal appeals court has stepped in.
As a result, America should get a LOT safer!
Via Washington Examiner:
The 5th U.S. Circuit Court of Appeals ruled Wednesday to reverse an injunction from U.S. District Court Judge David Briones, which blocked $3.6 billion in military construction funds for the border wall plan.
That's right: $3.6 billion has been freed up!
The problems began when the Border Network for Human Rights sued the Trump administration.
This blocked the money needed to enhance the wall, and it definitely ticked off our Commander-in-Chief.
But now, the money is back and Trump loves it!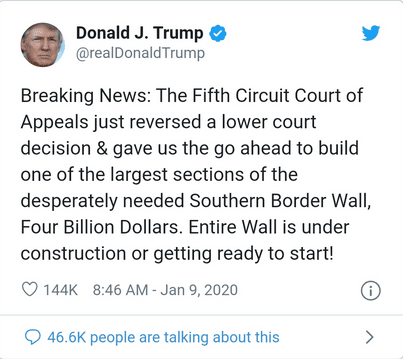 "Breaking News: The Fifth Circuit Court of Appeals just reversed a lower court decision & gave us the go ahead to build one of the largest sections of the desperately needed Southern Border Wall, Four Billion Dollars. Entire Wall is under construction or getting ready to start!"
That's what I love to see — progress.
We've needed to improve our border security for decades. And past presidents have done nothing about it.
But Donald Trump is doing what's necessary: he's providing Americans with the security and stability they deserve.
I don't know about you, but I sleep better at night knowing Trump is in office!
SHARE if you support the border wall and our President!
Source: Washington Examiner