Democrats Just Threatened Trump's Court Picks – Coons Says They Can't 'Sit Peaceably,' And Biden Suggests Rotating Them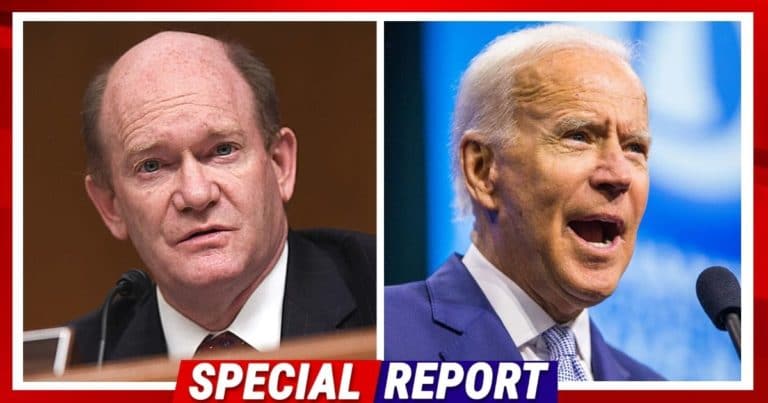 What's Happening:
Donald Trump got his third Supreme Court nominee appointed and the left just can't stand it.
He's gotten more justices confirmed in four years than Obama did in eight (much like his record in everything else).
Democrats, as usual, are making bold threats about how they will apparently "retaliate" Trump doing what the Constitution required him to do.
Besides packing the court, one Democrat even made an odd, veiled threat against Trump's justices:
Democrat Senator Chris Coons said that a "wide-open conversation" on court-packing is necessary and that President Trump's judicial nominees can't "sit peaceably."
Coons is essentially saying (in a way that tries to mask it) that Democrats will harass and bother Trump's nominees.
Why? Because these judges are terrible? No, because Democrats hate not being in charge.
Biden has gone even further. Maybe he won't "pack" the court, but he wants to undermine their lifelong appointments:
If court-packing sounds too extreme, then maybe court rotation will do the trick. Now that Judge Amy Coney Barrett has been confirmed to the Supreme Court, Democratic presidential nominee Joe Biden has said he will consider rotating justices if he gets elected next week.
As usual, Sleepy Joe is promising yet another radical move to our courts, if he is elected.
He once said he wanted to create a committee to "reform" our court systems—which suggests a drastic change to how our courts work.
Now, he wants to introduce some kind of policy that would replace justices after a certain time.
Which is code for: "I want to get rid of Trump's judges and replace them with my own."
The problem? That's not how the Constitution works. Democrats just can't rewrite the rules because they're losing power.
Since the first day Trump entered office, Democrats have acted like petty, spoiled children. They desperately have tried everything (aside from working with him) to undermine his administration.
Their threats to radically alter the Supreme Court violates the entire purpose of the court: to check out-of-control politicians in Congress.
Democrats are promising to use the power of Congress and the White House to remake the courts until they like them. The very reason the courts exist is to prevent these kinds of moves.
It's pretty sad that the Democrats can't even see it.
Key Takeaways
Democrat Chris Coons promised to prevent Trump's judges to "sit peaceably."
Joe Biden wants to "rotate" Trump's judges out if elected.
Democrats are promising to upend our court systems to give themselves more power.
Source: YouTube, Daily Wire