After Senate Democrats Make 'Strategic Error' – Ted Cruz Demands Hunter Biden As A Relevant Witness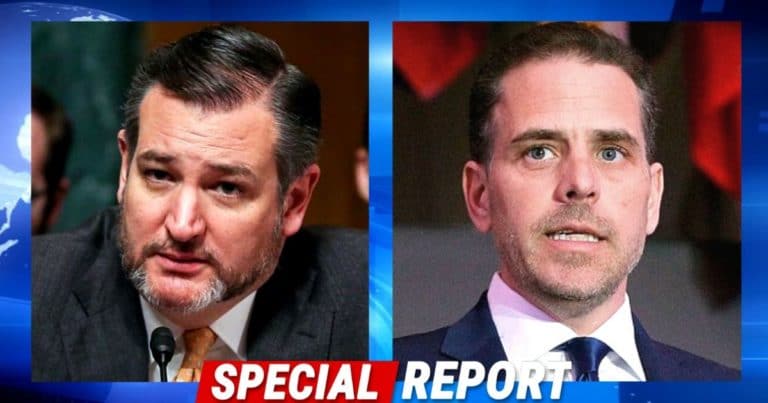 The Senate trial drags on today and House Democrats continue to do everything in their power to paint Trump as guilty.
Through it all, they have fought to keep Joe and Hunter Biden out of the case. They definitely don't want those men testifying before the Senate in the middle of a primary race, and keep saying they are "immaterial." Right.
But Ted Cruz might have just scored the biggest victory yet for the president.
He believes he caught the House managers in a "strategic error."
The Democrats just put forward the argument is that the Biden allegations are a complete sham.
There's just one problem with that angle.
From The Right Scoop:
Ted Cruz said last night that the House Democrat Managers made a "very strategic and serious error" yesterday in their opening arguments by making Hunter Biden's testimony critical to the impeachment trial.

Cruz argues that "if the House Manager's case is based on the allegations of corruption concerning Hunter Biden and Joe Biden being a sham, then it is directly relevant."

Ted Cruz just caught the left in a logic trap.
They claim the Bidens aren't important to the impeachment trial. But, if that's the case, it needs to be proven.
If the investigation into the Bidens is a "sham," then they need to show it's a sham before the Senate. That means Hunter should testify, to prove that there was nothing wrong going on.
The very fact that the Democrats are making this claim means it needs to be proven.
You can't make a claim during a Senate trial and not back it up, right? It looks like Cruz masterfully has them where he wants them.
Democrats have been trying to protect Biden from the start—but their very attempts to protect him might end up forcing him to take the stand, just days before the Iowa caucuses.
That sounds like a lose-lose to me, Democrats. Maybe you should have just kept your mouths shut instead of impeaching a duly-elected President?
SHARE if you want the Senate to call Hunter Biden to the stand.
Source: The Right Scoop