Democrat Governor Cuomo Just Admitted It – On Howard Stern Show He Says "Trump Has Delivered For New York"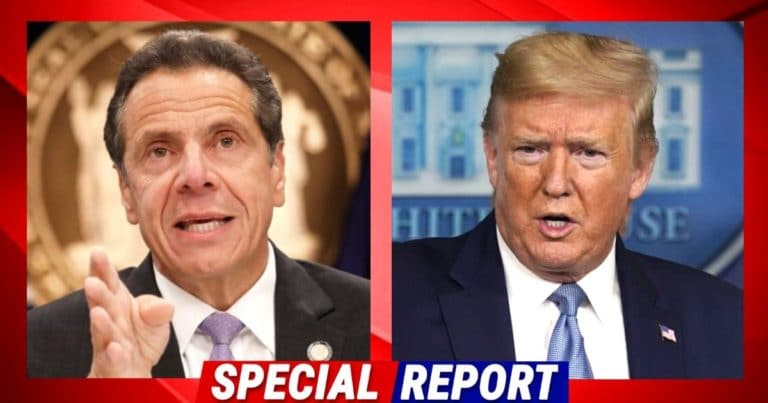 President Trump has been assaulted non-stop over his decisions during this crisis. That includes many jabs thrown at him by Democrat governors.
Of course, the media is going to make a big deal about any conflict between the POTUS and the states. Chances are, liberal outlets will try to paint every disagreement to make Trump look bad.
So, it would not surprise us one bit if they refuse to report on what Gov. Cuomo just said about the president:
From YouTube:
"He has delivered for New York," Governor Andrew Cuomo says of President Trump during his interview with Howard Stern.
Well, well, well! Would you look at that? The governor of New York just admitted to Howard Stern that President Trump "delivered for New York."
Cuomo was critical of Trump's response to New York's needs. Early in the crisis, Cuomo claimed the state needed 40,000 ventilators.
He accused Trump of contributing to the problem. Then we learned Trump had been pulling out all the stops to make sure New York had what it needed.
(We also learned New York ever got close to needing the 40,000 ventilators they requested.)
Thanks to President Trump, the Army Corps of Engineers built a 2,000+ bed hospital in the Javits Center. He sent the state millions of pieces of personal protective equipment.
And that's not to mention the sending of the USNS Comfort, the hospital ship that is now taking patients from Philadelphia (because of a drop in cases in NYC).
Some Democrats might be critical of Trump, but Cuomo's smart enough to acknowledge the obvious. President Trump worked very hard to ensure the hardest-hit state got what it needed.
His words echo what California Gov. Gavin Newsom has said about the president's results numerous times.
Despite the constant negative coverage by the media and liberals, these governors are admitting Trump's getting the job done.
But will the media bother to report on Cuomo's statement during this interview? Will they let everyone know what Cuomo is saying about the president?
We can't count on them doing it. So, we'll have to do it for them.
SHARE to make sure everyone sees what Cuomo said about Trump.
Source: YouTube